5 minute read
Design Skills Needed in 2021 and Beyond
Top tips and advice based on requirements from Apple, Facebook, BBC and more.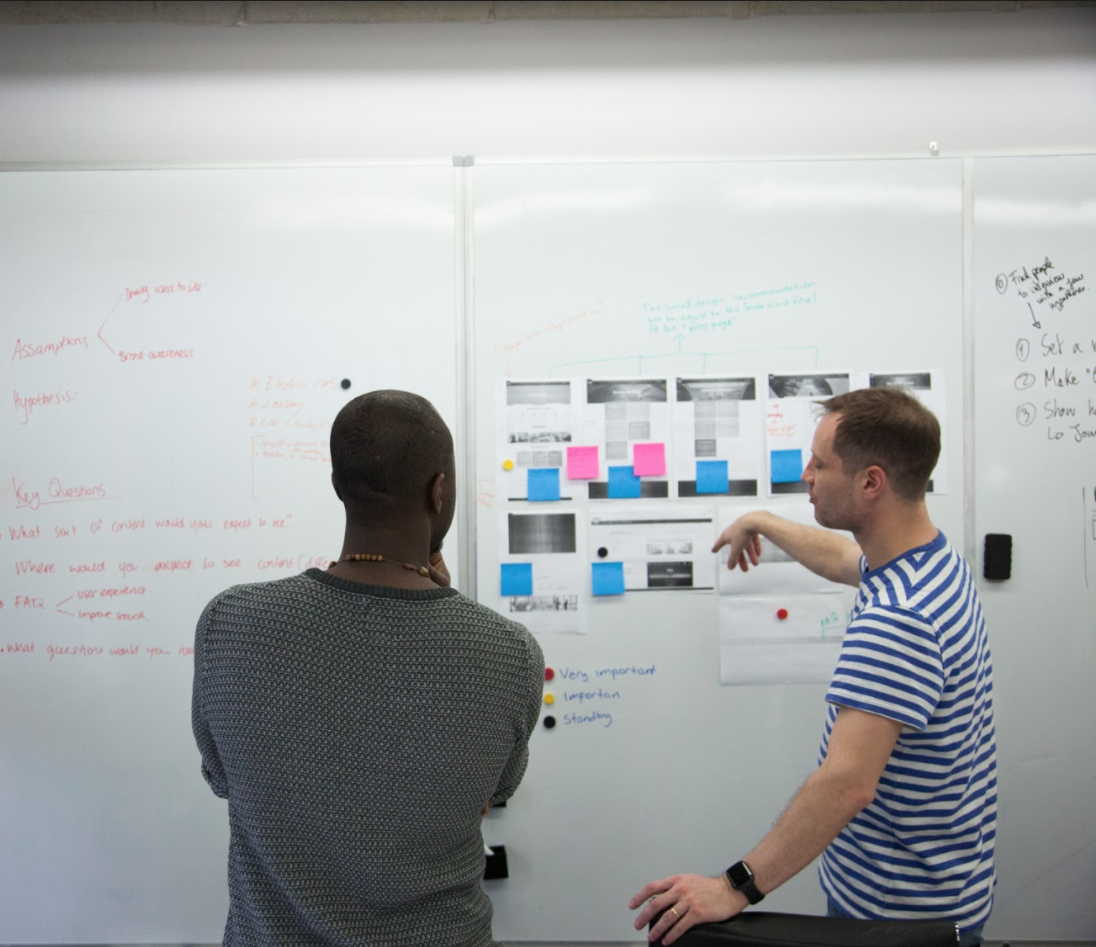 Landing your first Product Designer job can be pretty daunting. Not only do you need to set up your portfolio and start applying to job openings, but you will also need to ensure you have the design skills that companies are looking for. With requirements varying from company-to-company, it's not always possible to meet the criteria for every job opening. 
In this article, we will cover the core skills that junior-level designers should focus on learning to help them secure their first product design role. To help inform this article, we took a look at recent job ads for Junior Designers from multiple global brands such as Apple, Facebook, Invision and Uber to understand what design skills they were looking for. It is also worth looking at more senior job descriptions as it is often expected that juniors have a basic understanding of their tools, even if they aren't total experts.
Design Tools
Trends around UI & UX design are growing and more and more companies are starting to see its benefits. In turn, we are also starting to see the release of more design tools that have a great user experience, making it easier for designers and companies to design digital products. The below table shows which skills each company is looking for in a designer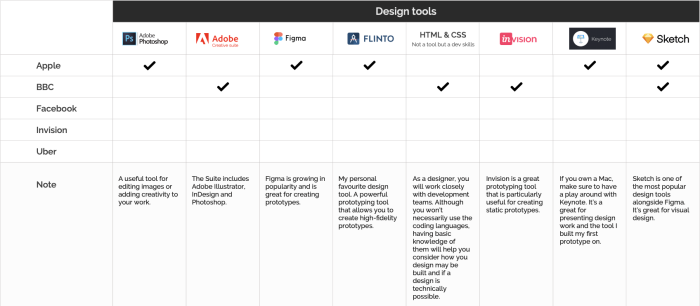 As you can see, Facebook, Invision and Uber do not specify the design tool you need to know how to work with. We can speculate that these companies are more concerned about your end-to-end design process and how the tools you used helped you to get there. 

So what tools should you learn how to use? My advice is to grow your skills on Sketch and Invison at a minimum as these are base tools that you can take with you throughout your career. You could also start to explore Figma as it is growing in popularity and has built-in prototyping tools.
Design Skills
Knowing your tools is a great starting point for becoming a designer. However, to become a good Digital Product Designer, it is important to have a design process in place. This will show potential employers that you have taken a thoughtful approach to the user/client's problem. The table below highlights common design skills that companies look for.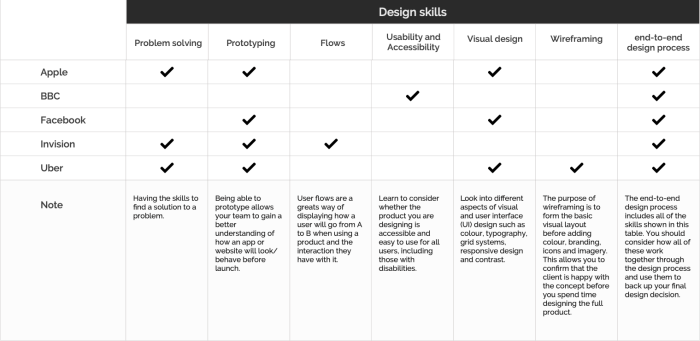 As the table calls out, an understanding of the end-to-end design process is a very desired skill at all brands. I'd also recommend looking into visual design, problem solving and prototyping as they are also very common skills required in a designer. Although they are not as popular as the other skills within this table, it would also be worth exploring wireframing, user flows and usability/accessibility. Accessibility is a growing trend as companies are realising the need to ensure that their digital channels are accessible for all, making sure that users with disabilities don't experience any barriers when interacting with a product. 
So what design skills should I learn? I'd advise starting with three of the skills above that you'd like to develop an understanding of. You should make sure that these three skills are visible in your portfolio. Whilst learning all of the above skills would be useful, you don't need to be a ninja of all of them. A base understanding of the skills is a good starting point. You will develop all of these skills as you progress throughout your career.
Soft Skills
Soft skills refer to your communication or social skills. This is important as often there are times you will be required to either communicate your design decision to your team or client.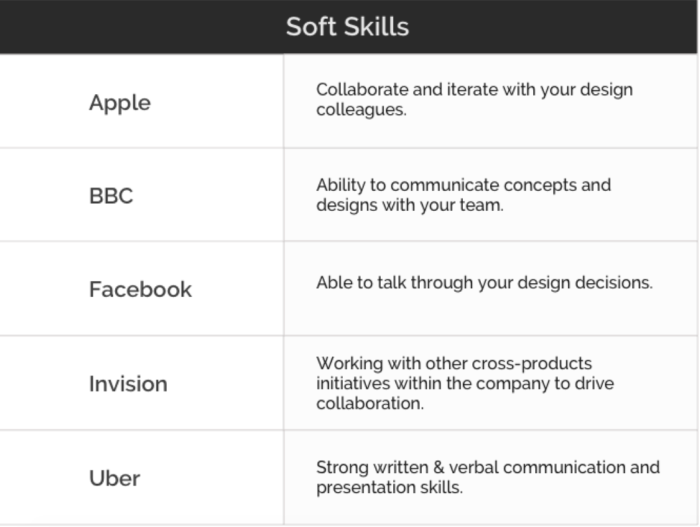 As a designer you will work in a cross-functional team, tackling user and design problems together and will often be asked to present your solutions. If you experience glossophobia (fear of public speaking) or similar, my advice is to start small, excuse yourself if needed and try to keep it short and straight to the point. If you still find presenting hard, ask your manager or team if you could present a smaller part of the work. With time you will get more comfortable speaking and will begin to develop your presentation skills.

 
Tips from the Graphite Design Team

The designers at Graphite come with a variety of experience from illustration to branding, design systems and UI & UX. I decided to ask our Senior Designer, Vicky, and Creative Director, Thomas, what design skills they believe junior level designers should have based on their expertise and experience.

Vicky - Senior UI Designer
Be able to implement designs with the rules and standards of the design system in mind
Keep a lookout for what user interface features are being used in wider markets
Have an understanding of how UX design and UI design is a collaborative process and that both are integral to the design process
Thomas - Creative Director
"If you're an aspiring designer, you may not have much experience. Therefore showcasing your design process and skills through case studies within your portfolio is really important. Within these, you should talk through each phase of your work from your research, to iterations, and why you did what you did."
"Don't fake it! Experienced designers will be able to spot fake research/personas/wires/designs. Even if it's a self-started project, treat it like a real project."
"Curate your portfolio. Feature three brilliant case studies that you can defend and talk about with passion. Resist the temptation to add more because it looks empty."
We hope you found this post useful and that it helps to set you on your way to landing your first digital design role. If you have any questions for our team, please feel free to reach out via our contact form and we'll make sure it gets to the right person. Alternatively, find more on design careers in our Digital Career Advice series.