7 minute read
The importance of investing in the future of digital talent
Discover the importance of raising awareness of digital opportunities for young people and what Graphite are doing to help.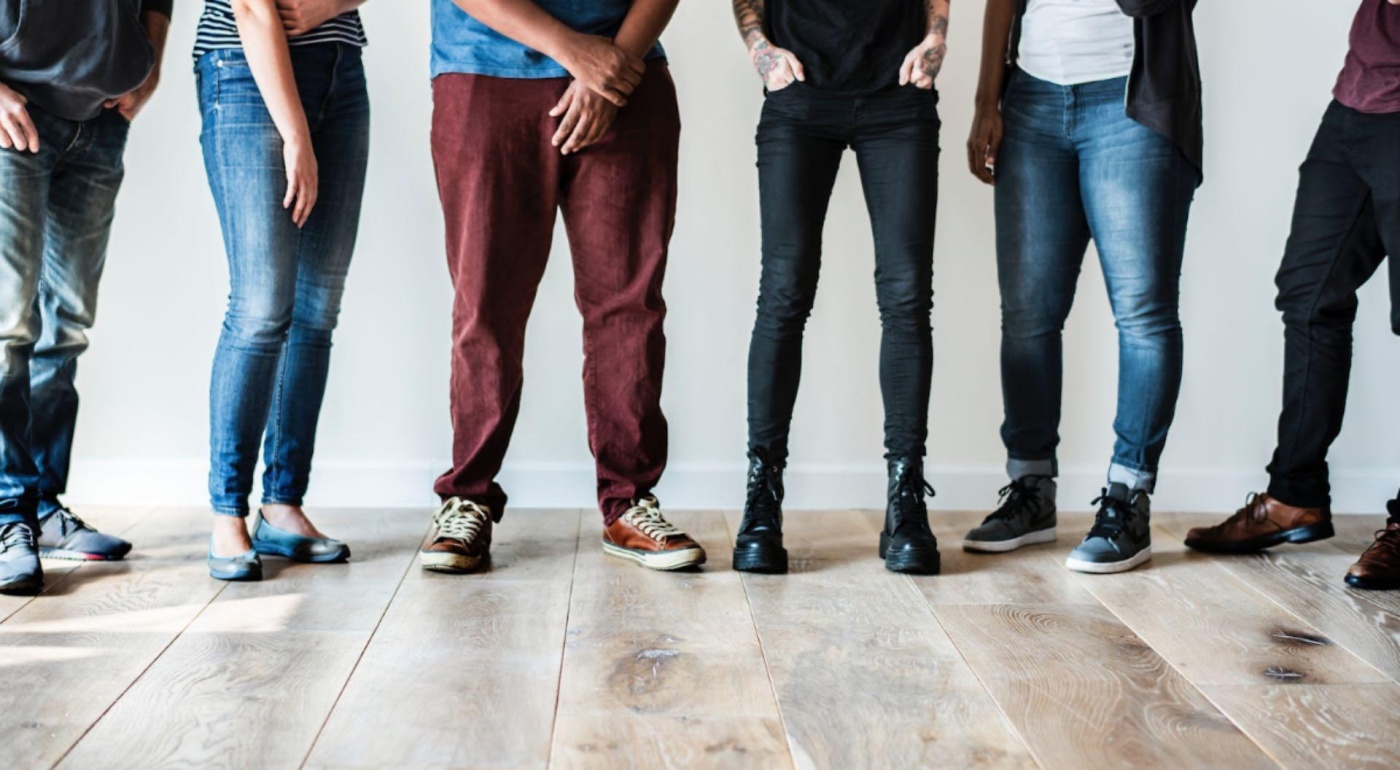 by

Rob Verheul
25 August 20
In the last few years, Graphite has invested time and resource into activities aimed at increasing awareness about the career opportunities in digital, as well as helping some individuals take their first steps in the industry. This year, we plan to do even more. Here's an overview of what we're up to, and some ways in which you can get involved.
The growth and awareness of the Digital Industry
The digital industry is increasingly important to the UK's GDP. In the UK as a whole, 2.1 million people are employed in digital and creative sector jobs in the UK. (Source)
It's predicted that the digital and creative sector will need 1.2 million new workers by 2022 in order to keep up with its growth (that's 50% more than there are today).
Whilst it's widely accepted that the general public are becoming increasingly engaged with digital media, in our experience, there is next to no awareness about how digital products and services are created, and that there are promising career opportunities.
Perhaps one place you'd expect increased awareness is amongst young people. However, teachers are under-funded and, despite trying their best, they find it hard to understand and teach what they haven't seen or experienced themselves. It's difficult for teachers to keep up with the rate of change in the digital industry.
Our first steps
In 2016 we were involved for the first time with BIMA's digital day. A nationwide initiative that takes place every November, which sees digital professionals head back to school to spend a day inspiring 13-16 year olds. BIMA Digital Day is FREE for both schools and agencies. It gives them:
An insight into the depth and breadth of careers available in digital;
Practical advice on getting into digital; and
Hands-on experience tackling exciting challenges set by our brand sponsors
This day was to prove transformational for the agency, bringing us together and connecting for the first time with a vast audience of students, eager to find out more.  
It emerged that on a personal level, many of us feel compelled to help open the door to the industry for promising students to help them find a rewarding career in digital, just as someone once did for us. And it's 'us'. As one team-members said recently "it feels exactly like what Graphite should be doing" - so let's get to it.
What's in store this year
This year we've clarified our vision on Young Talent, in a bid to focus our efforts and maximise the impact we can make as an independent agency.
Our vision: To inspire students to explore a career in digital, to fill the digital skills gap and ultimately create a pipeline of talent for the nation's digital workforce.
We want to engage with students and build awareness through several streams of work which deliver our objectives and simultaneously unite the Graphite team, giving everyone a platform to discuss their experiences of agency life and develop their skills.
A. Digital Pulse
Having witnessed the positive impact of Digital Day on students as well as a means of building school and agency relationships, Graphite was presented by a few opportunities to meet with students in BHASVIC (Brighton) and Steyning Grammar School, but we only met for a lesson, not a whole day.
We tried something out - compressing the content of Digital Day it into one impactful lesson. This worked well and led to 7 more occasions that we were invited to schools to meet more and more students.
Having piloted the model in multiple schools, we will expand it to other agencies this year via our connections with BIMA, getting their input in shaping and optimising it so that it can be rolled out nationally in 2020.
If you're interested in trialling Digital Pulse in your local school, please contact Rob via Twitter @rob_v.
B. Work Experience
Work experience is no longer a mandatory week in schools, and due to the logistical difficulties, some schools and students are opting out altogether.
As a firm believer in the power of work experience, an opportunity in which students can have their first taste of work and a valuable moment in which they can find out first hand what it's like - I have a personal passion to 'reinvent the work experience model, making it far more valuable for students, as well as sustainable for organisations to offer'.
As part of this initiative Graphite will be offering work experience to several audiences in 2019:
Secondary School Level - For x2 year 10 students to do their 1 week of work experience at Graphite
College/6th Form Level - For x3 16-18 year old students to join us, on separate occasions, for 1-2 days of work experience before July of 2019
HE/Degree Level - For x1 student to join us for 1 and ½ day sessions to total 30hrs before the end of July 2019
In the near term, all of our efforts will be made through schools and colleges, rather than directly to applicants, in order to help ensure safeguarding compliance.
C. Digital Day
Having supported digital day for the last three years, we plan to continue our support this coming November and this year deliver greater results - reaching an additional 150 students (minimum) across the region, taking the total to 600 students met on one day.
If you're reading this and are in a position of influence in a local school, agency or digital department in a business, please do sign up this year: https://www.bimadday.org.uk
D. Spear
The Resurgo Spear programme helps young people who are not in education, nor in full-time work to get into employment. Founded in London, a branch was set up in Brighton in 2018 and immediately saw success in meeting with and transforming the lives of young people.
Graphite has seen the change it has made to individuals and wants to provide its support - to date we have hosted a number of groups and provided office tours and interview workshops. We will continue to promote and support spear visits, with two per term, and ad-hoc resource where availability allows for interview guidance/support.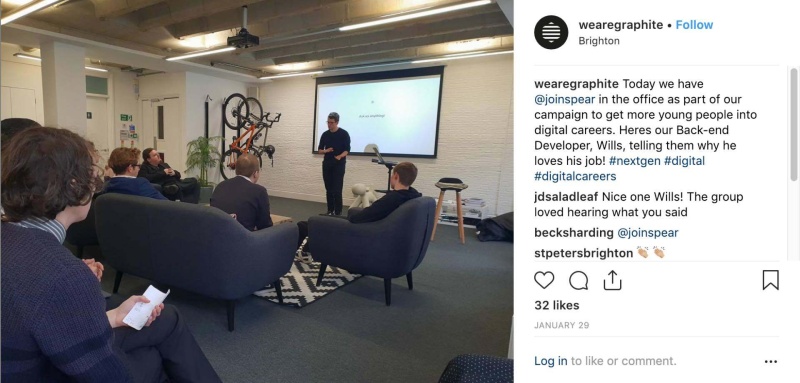 E. Code Bar
Code bar is a non-profit initiative in Brighton that facilitates the growth of a diverse tech community by running regular programming workshops. We are delighted to support this initiative by hosting the group every couple of months, providing facilities, food and access to our talented technical team to help mentor these passionate people as they discover new skills.
We will continue to promote and support code bar, with three visits per term, and ad-hoc resource where availability allows for interview guidance/support.
For more information on Codebar visit https://codebar.io
F. Apprenticeships
We employed our first digital apprentice in 2018 which has been a real success. Read more about Lauren's experience of being an apprentice here. We plan to employ more apprentices in the future.
Sound good?
If you'd like to find out more about any of these initiatives please do get in touch.