Enhancing the CPD experience for HCPs with a new e-learning app
User Research Innovation Workshop Rapid Prototyping UX and UI Design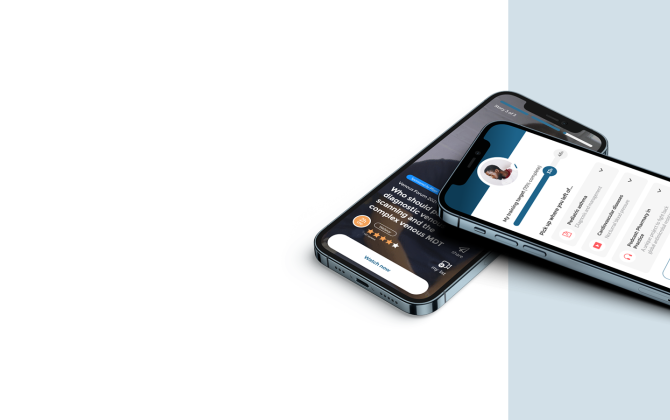 Often in our interactions with healthcare professionals (HCPs), we hear that they struggle to find valuable accredited training or e-learning to work towards their continuous professional development — or CPD — requirements. When they engage with digital learning, the content they are presented with is often uninspiring, unengaging, and lacking personalisation.
We set out to better understand the needs and preferences of HCPs and the current digital CPD training landscape in the UK to come up with a new e-learning app concept that could transform the experience. We also wanted to find out how much potential there is for pharma organisations to get more involved in this area.
After conducting research with practicing HCPs, we designed a new prototype app. The new solution was preferred by 100% of users, who felt the concept was new, unique, and something they'd use for their training if it were launched. It incorporated increased personalisation and opportunities for peer-to-peer interaction, as well as a fresh new interface taking inspiration from social media platforms. Users loved the visibility around learning outcomes and modular, bite-sized content that could fit more easily into their busy schedules.
By listening to the first-hand views of users and applying our UX and UI design expertise, we were able to come up with an innovative new e-learning solution that better served the needs of HCPs.

Outcomes
New prototype e-learning app preferred by 100% of users

Users felt the new concept was unique and all would use if it were to be developed

Enhanced understanding of HCP needs, wants and pain points around CPD

Identified new opportunities for pharma organisations to engage with HCPs, strengthen relationships, and build trust
Understanding the current CPD landscape in the UK
To kickstart our project, we conducted desk research to better understand the wider context, requirements and current solutions for CPD available in the UK.
All HCPs are required to take steps towards continuous training, learning, and professional development throughout their careers. Specific requirements are set by the 30+ professional bodies and associations within the sector. What counts as 'CPD' varies across bodies, but it's generally deemed to be any activity that enables you to learn and develop professionally, building skills and knowledge.
We conducted competitor research on some of the popular existing solutions that are currently on offer in the area, finding that there were limited opportunities for peer-to-peer interaction and fostering a sense of community in the digital sphere.
Our focus area: how could we improve the e-learning experience for HCPs?
Utlising our skills and experience, we decided to focus on how the experience of e-learning as a specific form of CPD could be improved through effective and insight-driven design. We wanted to encapsulate a wide range of CPD formats that could be hosted and accessed in one app or platform.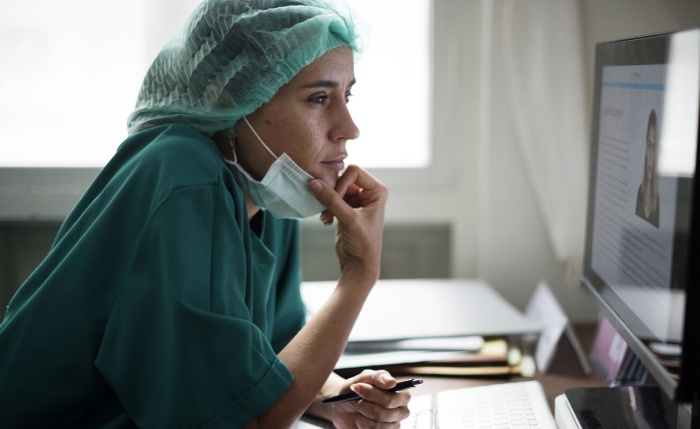 Conducting first-hand research with practising HCPs
Before we started thinking about a potential digital solution, the first step was to speak to some practising HCPs to gain a better understanding of their current views on e-learning and CPD. Some key insights were:
1

The social aspect of training is important. Networking is an important aspect of the job in terms of training, professional development and expanding knowledge in specialised fields.

2

Interactivity is key to creating engaging e-learning experiences. Although recorded online lectures and webinars are beneficial, they're not as valuable as asking real-time questions.

3

HCPs lack spare time to dedicate to training and CPD. Flexibility in terms of accessing content and fitting learning around other commitments is important.

4

More personalisation of training and e-learning would make the experience better. Current solutions have limited scope for personalisation and displaying only relevant content.
Designing a prototype that would meet user needs
Prototyping for innovation is the art of making your ideas 'real' enough to put your ideas in the hands of your audience and test assumptions — we aim to do 'just enough' to feel authentic. Some functions or interactions won't be available, but users will still be able to query them during the research sessions. We focused on 4 key areas for our concepts.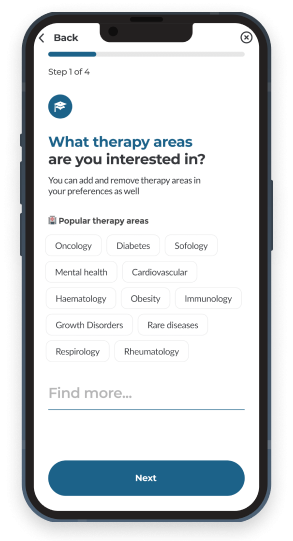 Personalisation and relevance
A simple onboarding process would allow HCPs to set a few initial parameters to take control over how they access training and tailor their content. They could set a prefered training schedule, reminders, learning activities and even goals for the number of CPE points they would like to collect.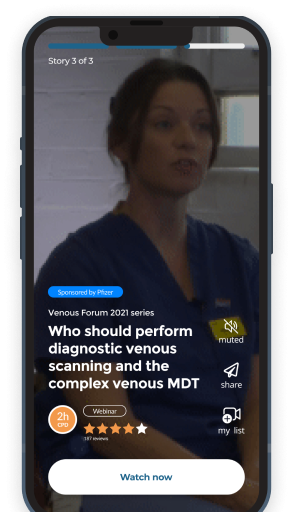 New formats to increase discoverability
Our research showed that just like most of us, HCPs like easily digestible, scrollable content that can be found on platforms like Instagram, so we wanted to leverage design strategies from e-commerce and social media.
We offered a proven way to browse content using 'stories', allowing users to quickly swipe through training content and decide in seconds if this was the right one for them. CPD points, peer reviews, subject and length are all visible at a glance.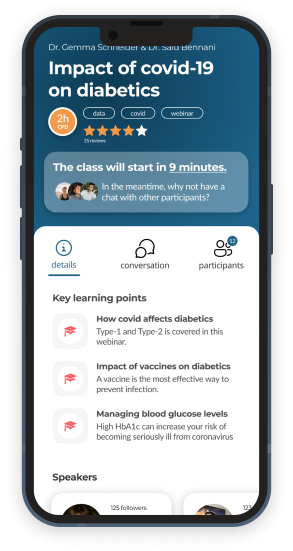 Bringing back a sense of community
HCPs would be able to join groups relevant for their interests and see what training their peers are undertaking, as well as being able to discuss their training with their peers as if in a physical learning environment.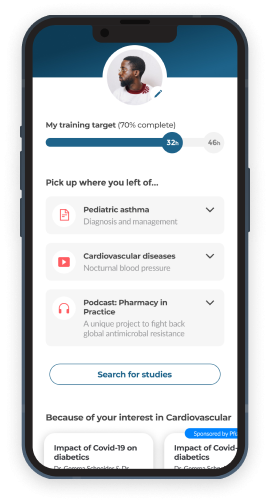 Increased visibility around learning outcomes
A key UX principle is to support users in their decision making, helping them make the right choice for them. In our new app, each course or piece of content would highlight key learning outcomes, community ratings, key speakers and other important information such as CPD points up front.
Positive feedback from HCPs in our final stage prototype testing
We tested the final prototype again with healthcare professionals including GPs, a midwife and a paediatrician. We were delighted that all users stated that they would use the platform if a real-life solution like this were available to them.
The HCPs loved the clean, simple look and feel of the app. The user interface allowed them to complete the tasks they set out to do in a straightforward way and the social media-like feel felt refreshing, relevant and engaging.
Our HCPs believed the final concept to be unique and needed. One user commented that they have not engaged with any app-based CPD in the past or seen any similar options.
The participants loved the hybrid set-up of the app with the combination of networking, peer interaction and CPD. They felt the community aspect was especially important as they are able to network less in real-life these days.
Lastly, users liked the fact that the content was bitesize and modular, allowing them to dip in and out as they have the time, and commit to different levels of action. This 'ad-hoc' approach would allow HCPs to fit CPD around their busy schedules.

"I like this, I think it's very relevant isn't it? And it does feel a bit like you are flicking through Instagram or TikTok or something as opposed to doing work on the usual portals. It's quite refreshing in that sense."
Research Midwife

"It's tailored to you. Everybody wants that, everyone has their own learning style and preferences when it comes to accessing training. It's personalised to your needs."
GP

An opportunity for pharma organisations in the HCP e-learning and CPD space
Throughout this process, we noticed a big opportunity for pharma organisations to get more involved with HCP e-learning and CPD. Our initial user interviews revealed that HCPs were suspicious of training provided by pharma organisations and didn't always trusting them to deliver impartial content.
By offering more pharma-sponsored educational content — or even building a fully-functioning e-learning platform like the one we've prototyped here — there is scope to add value to the HCP relationship and engage with this audience in new ways. Pharma teams could also subsidise the costs of online learning to provide more affordable CPD options for HCPs.
When it comes to creating content, investing a bit of time into research and hearing from HCPs will give you precious insights into their specific needs. What works for one speciality or for a competitor organisation might not be the best approach for your audience.

Want to discuss new ways to digitally engage patients and HCPs?