Partnering with DKMS to increase the number of registered stem cell donors
User Research | Innovation Workshop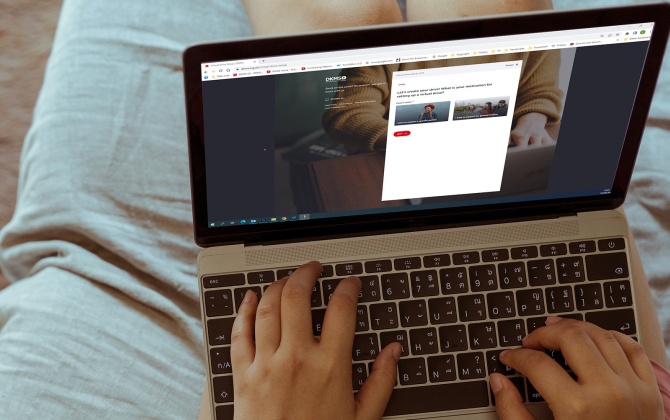 Blood cancer charity, DKMS, were experiencing low return rates of their stem cell donor registration kits. This meant that less people were successfully registering as potential donors, and their already limited resources were being wasted in supplying free kits that were never sent back.
Utilising our team of in-house user researchers and designers, we partnered with DKMS to help them to better understand their target donors and work out what they could change in their processes in order to improve return rates.
We conducted in-depth research interviews with a selection of donors, mapped out the donor journeys, then hosted a collaborative Innovation Workshop to come up with high-impact changes to improve return rates. We designed new prototype solutions, then sought feedback again from real donors to ensure what we'd created would resonate.
Our work with DKMS has equipped their team with the insight and understanding to enhance the registration process, improve kit return rates, and ultimately increase the chances of those in need finding a match. We provided a list of actionable changes, validated through user testing, that could be implemented across their messaging and processes to help maintain a strong emotional connection at every touch point.

Outcomes
In-depth understanding of donor journeys, motivations and decision-making

Provided direction on improvements to registration process to support DKMS' wider fundraising efforts

New design concepts, tested with users, and ready to implement across key touch points
DKMS and the challenge they were facing
DKMS is a blood cancer charity that aims to 'delete blood cancer' by encouraging people to sign up to join the stem cell donor register. This increases the chances of finding a match for those in need of a life-saving stem cell transplant.
After hosting our own 'virtual stem cell donor drive' in partnership with DKMS for Blood Cancer Awareness Month, we were familiar with their mission and excited to support them using our experience in healthcare and pharma, and our research and design capabilities.
DKMS were experiencing average registration kit return rates of just 52%, with disparities in the data across channels, age, gender and ethnicity. Previous surveys conducted by DKMS highlighted issues with postage and logistics, and the team also suspected difficulties in maintaining the initial emotional connection and drive throughout the process.
The main aim of our research was to understand why donors are not returning their kits and from these findings, identify key touch points in the user journey for intervention. We also wanted to enhance the registration kit itself, testing and validating any new proposed solutions with potential donors.

The Graphite team were really engaged with the process asking the right questions from the off to try to get underneath our problem. They have designed a clear process that takes us on a journey together towards problem resolution.
Josh Winter


Customer Service Manager, DKMS
Conducting in-depth interviews to understand donor motivations and pain points
Our Clinical UX Researchers conducted interviews with a number of DKMS donors. They spoke to a mix of people who had and hadn't returned their registration kits, across a range of ages, genders and ethnic backgrounds.
As well as asking the interviewees about their experience of the registration process, the discussion focused around three other key areas — their experience with and knowledge of DKMS; their previous engagement with health-related activities and initiatives, such as giving blood; and their social media usage and habits.
Findings from the user research sessions revealed two main themes that led people to not return their kit — personal circumstances and unanswered questions. Users expressed generally not being good at returns, being busy and forgetting and also the perceived time required for taking part being too long. For those who had unanswered questions, their questions were around the implications of donating, and the purpose of and process of donating.
We developed and mapped out detailed donor journeys to provide a clear overview of all touch points and identify opportunities to improve the process at key moments.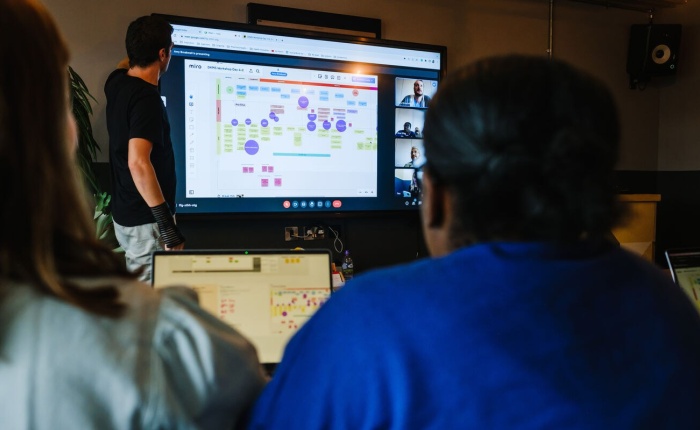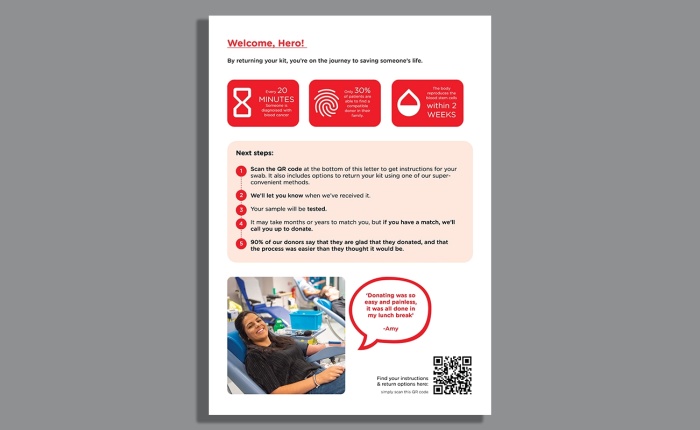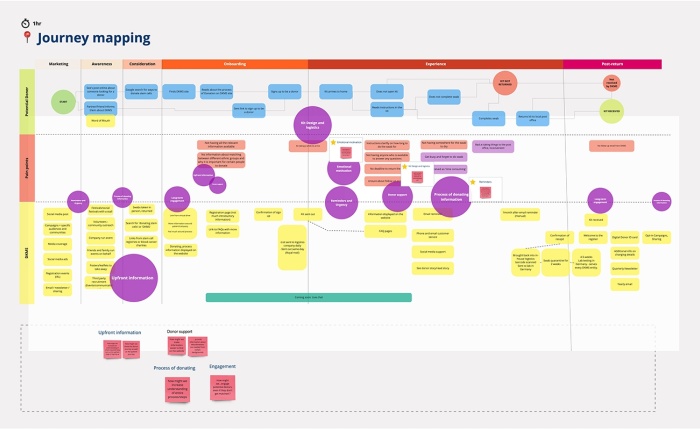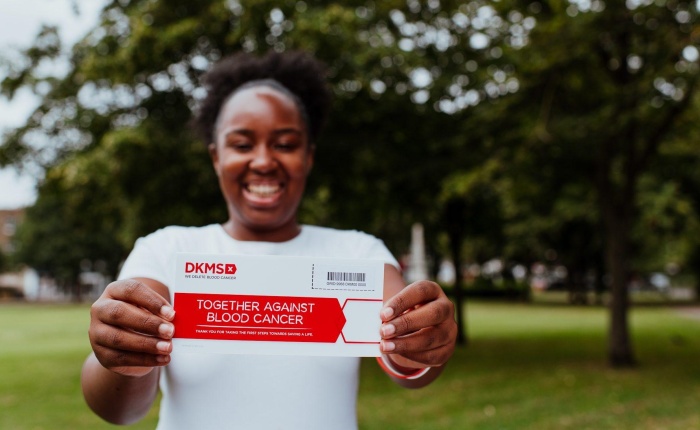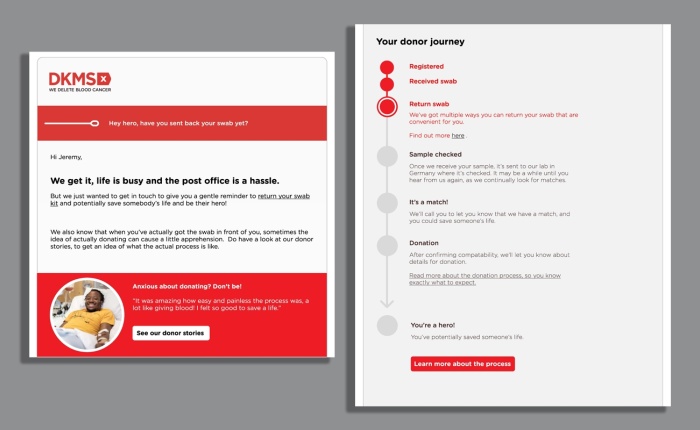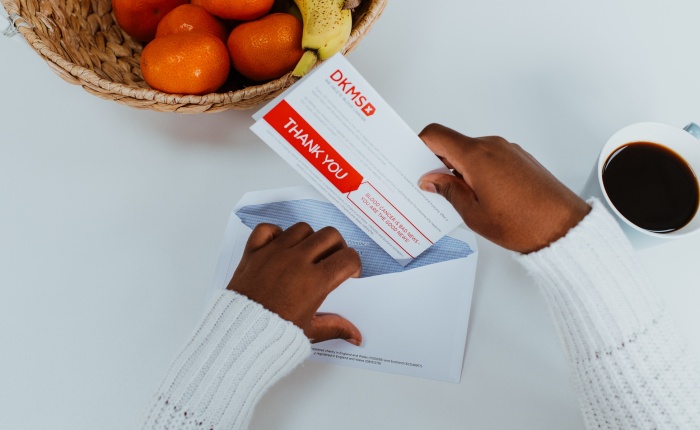 Designing our new concepts for maximum impact
We designed new concepts for the materials and communications used at key touch points in the donor journey — the swab kit packaging; the welcome pack content; email reminders; returns information; social media comms. Across them, we introduced:
1

More emotive language to make donors feel appreciated and understand the potential human impact of completing the process

2

Increased use of colour to build brand consistency and make comms instantly recognisable

3

Reassuring messaging about the process, highlighting its simplicity, and including more stories and direct feedback from other donors

4

Increased use of imagery across materials to help bring stories to life

5

QR codes on physical materials to provide easier access to more detailed information

6

Different methods of swab kit return for maximum convenience, with clear information about options

7

Custom 'stickers' for social media usage to encourage people to share when they have completed steps

8

New messaging for emails, with comms including different voices and perspectives — DKMS, previous donors, patients needing donors, patients who have received transplants
Testing the designs with real donors to understand potential impact
We wanted to get our new designs in front of real donors in order to assess how they were received and their potential impact on kit return rates.
We held a focus group where we did some concept testing of the new designs with potential and previous donors. Concept testing is an exploration into participants' reactions to ideas or concepts. It allows for users to share in the initial shaping of an idea to solve a problem prior to it going live.
We were delighted to receive positive feedback from participants, who felt that the inclusion of donor stories would help put people at ease, and the openness in messaging around the fact that a lot of people don't return their kits would highlight the issue and encourage them to do so.

"It's an appeal from somebody who's been in their shoes. And I think that's great. I think that's got some merit to it, to be honest."

"I like the fact that people have got options, you know [...] You can take it into the shop, you can drop it into a postbox."

"I think an appeal from a fellow donor is powerful."
By equipping DKMS with enhanced donor insight and understanding, along with a list of tested and actionable improvements to implement across key touch points, they will be able to enhance the registration process, increase return rates, and boost the number of people signed up as potential life-saving stem cell donors.
As well as the impact on return rates, the insights gained from speaking to donors directly will inform DKMS' wider fundraising efforts and messaging across their core channels.

We have gained valuable insight into this part of the donor journey and now have some possible solutions to improve the returns rates and thus create a better experience for our supporters. We would definitely recommend Graphite to any organisation that was looking to problem solve.
Josh Winter


Customer Service Manager
How can you support DKMS?
DKMS is an international charity dedicated to the fight against blood cancer and blood disorders. They recruit blood stem cell donors, provide second chances at life for those in need of a transplant, and raise funds to cover donor registration costs.
Learn more about the work they do and how you can support them by registering as a potential stem cell donor or donating: dkms.org.uk/ 
Looking to gain new user insight and improve engagement?