6 minute read
A day in the life of a UX Clinical Researcher
Over the next few months, our team will continue to give insight into a day in their life at work. They will expand on themselves, their job role, and what an average day might look like at a digital design agency.
So far, we have found out what a UI Designer and a Senior Operations Manager do and now, we hear from Crystal, to find out what it takes to be a Clinical UX Researcher at Graphite.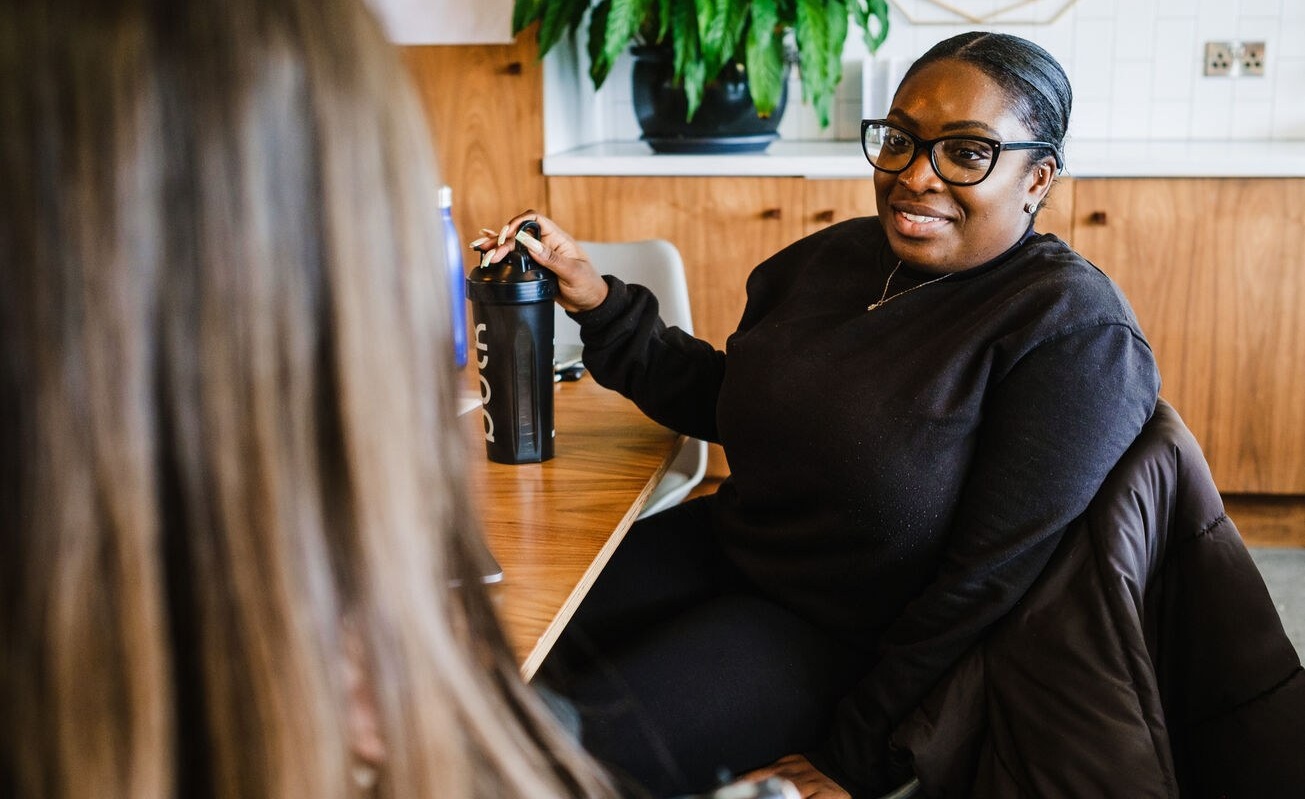 by

Crystal Oppong
31 May 23
Life at Graphite
Agency Life
UX Research
Hey everyone, my name is Crystal, I'm a 26-year-old clinical UX researcher based in London but working remotely for Graphite Digital.

What is your role and how long have you been doing your job?
I am currently working as a Clinical UX Researcher at Graphite. I've been working at Graphite for 1.5 years and doing user research for the past 2.5 years. Before working at Graphite I worked as a junior user researcher within the public sector and a research assistant in the mental health field. I've always enjoyed doing research but what made me want to get into user research specifically was being able to turn your research findings into tangible actions. It is always great to have an impact on how users perceive or use a product or service.

What skills are required in your daily work?
People skills - Being able to interact with people is an important skill as a user researcher. As a researcher, you want to understand users/people's needs and wants, so you need to be able to empathise with them and understand their perspective during discussions. remaining open-minded throughout your research sessions is an important skill to enable you to gain good insights and use them effectively in your work. It's important to seem friendly, likeable, informal, and non-threatening, however, this doesn't mean we have to be especially extroverted. Many researchers are introverted, but researchers must like people, and other people must feel comfortable talking with them.
Problem-solving - Often, clients have problems (related to their product's users) that they wish to solve and my role is to understand how the problem can be solved with user research, or what information the user research will be able to uncover. Similarly, when interviewing/talking to users, you constantly want to be thinking about what recommendations and takeaways you can give the client, based on the users' experience.
Organisation - Carrying out research requires multiple steps, depending on the research method. During projects, there are many different parts that you need to address from your research plan, to recruiting, to carrying out sessions, and this all requires you to be organised throughout. Additionally, when working in an agency specifically, it is important to stay on top of your various projects. You may often switch from one project to another, so having enough time and making sure you are prepared is essential and will help both you and your team.

What does an average day look like?
Pre-work: During the working week I wake up at 6:30 and somehow manage to drag myself out of bed and get to the gym (with a bit of help from pre-workout). Once I get back in I have some breakfast and start to get ready for the day ahead.
Morning: The AM includes admin duties like checking emails and Slack (which is an instant messaging platform for professionals). Once all messages are checked I look at my timetable for the day, see what I have been scheduled to do and then get cracking! In the current research project I am working on, I am at the analysis stage so I'll spend the morning looking at a variety of notes taken during research sessions and start collating them into themes and commonalities between the user participants (this is called affinity mapping). Affinity mapping can take a while to do as you want to firstly refresh your mind with the research/interview recordings that you either sat in on or conducted yourself but then also being able to look through loads of data which can be a time-consuming activity but interesting nonetheless.
Afternoon: During the PM you want something that uses a bit less brain power but is still essential to work, so you could switch tunes and start working on another project. In the afternoon I could be creating some materials for upcoming research. This can consist of contacting recruiters as well as creating project plans which will highlight the aims and objectives of the research and everything pertaining to it. Additional materials such as consent forms and information sheets which support participants to understand what we are doing and why.
Towards the end of the day, I may have an internal team meeting with all of the design team where we can share updates about what's going on with our team, how everyone's getting on with different research projects and a time to connect with each other and engage in some fun design activities which is always great!

What do you wish you would have known about your job before starting?
Don't panic! There is always room to refine your skills

When conducting research there is always something new to learn. With every new interview there is an opportunity to refine your skills in order to gain the best possible insights from users. There are so many different ways to approach different types of research without deviating from the basics, therefore there is a lot you can learn! To some that may be daunting but it is reassuring that you can always add more to your skillset
The user research community is vast and full of knowledge! 
Prior to starting a career in user research, I was unaware about the various channels of interaction with user research professionals. If you are working in a small or even a large team it is always nice to be able to discuss research things with people outside of your organisation. There you can share tips and see what some of the latest methods of doing things are. Some common channels are Slack, an instant messaging platform we use, where we have plenty of group chats and 1-1 chats, and LinkedIn.
What do you love the most about your job?
What I love the most about doing user research is making a difference. The fact that user research is based on feedback and insights from actual users is what makes it the most interesting. What better way to improve your product than talking to the people who use it the most? Being able to see recommendations being implemented on live sites or generating new ideas based on user feedback is a very rewarding experience. 
Working at Graphite specifically, you are able to work with pharmaceutical and healthcare companies that are focused on improving peoples' lives and health.