5 minute read
Our top takeaways from the DigiPharma Connect conference 2022
Our Creative Director, Thomas Michalak, shares his top takeaways from the Digi Pharma Connect 2022 conference.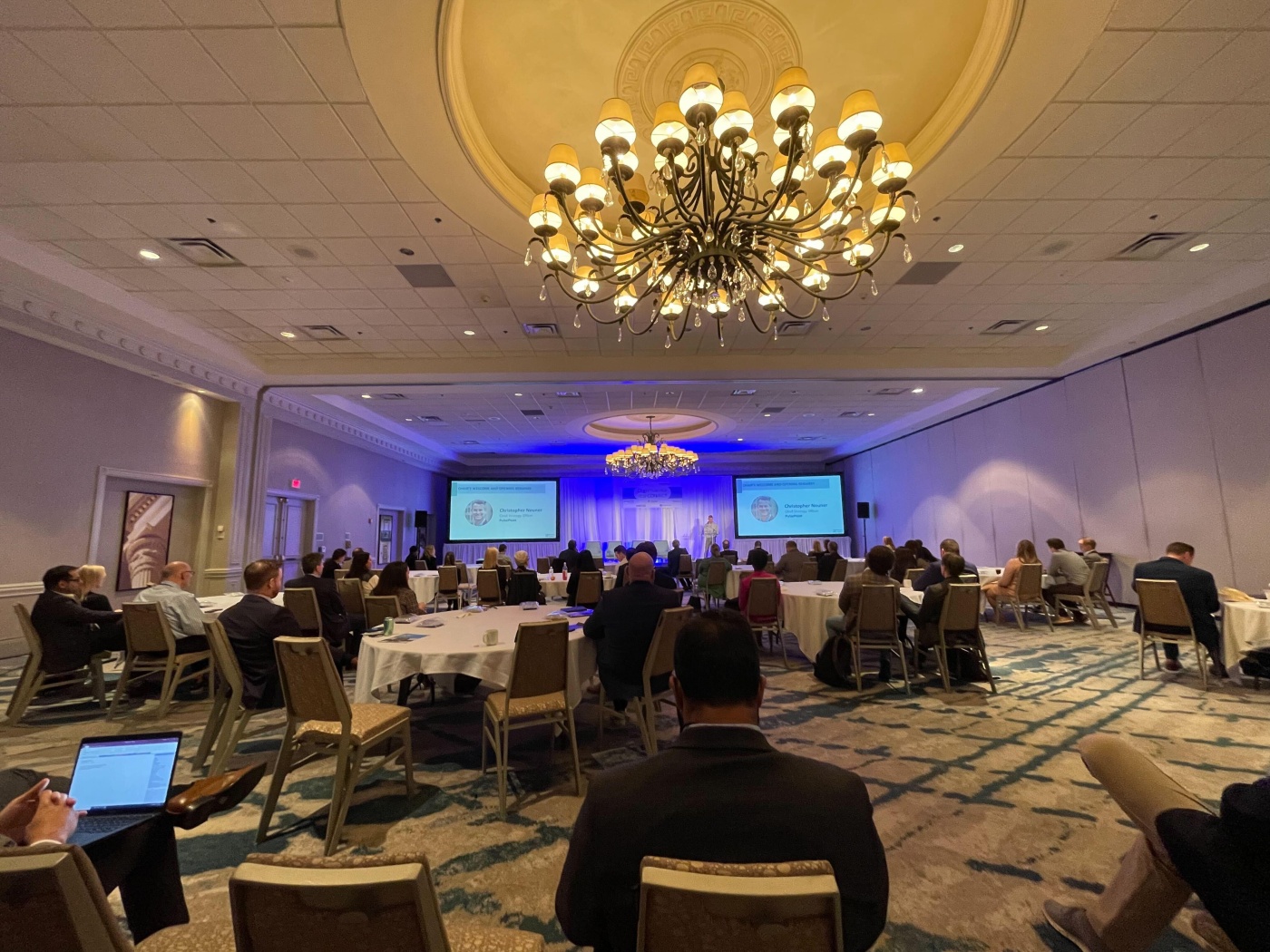 by

Thomas Michalak
10 March 22
Pharmaceutical
Events
Digital Pharma
Last week, some of the team attended WBR's DigiPharma Connect 2022 in Savannah, Georgia after a 2-year in-person hiatus. 
The conference offers a chance for a select group of leading digital pharma professionals to get together and share perspectives on the latest sector trends and challenges.
Here, our Creative Director, Thomas Michalak, shares his top 6 takeaways from the event.
Is Pharma finally going to utilise the vast amount of data they've been collecting?
​​Big data, machine learning, and AI were at the centre of many conversations we had. Pharmaceutical companies have been hoarding data for a long time, from clinical trials, marketing and R&D. It makes sense that they are now thinking more than ever about doing something with it, with investments into the billions being referenced at the conference. 
Many talks focused on creating brand impressions and using data to inform their marketing, often referring to omnichannel as the way to approach customer engagement. I couldn't help myself noticing the lack of mention of HCPs and patients' needs. Big data used in omnichannel strategies are often on the line between useful and creepy. 
It is clear that AI and big data will help clinical trials be more successful. It is also clear that data can help create a richer data picture of HCPs and patients' behaviours. Unfortunately, without the why behind the data, this won't help us create solutions that help them progress and improve.
Measure progress and learn from it
Chris Weber from Sobi did a brilliant  job at showing us the importance of measurement — more specifically, measuring what matters. He reminded us that opening the data gate won't make a difference if you're lacking vision, goals and clear KPIs. 
Different goals require different sets of data and touch points, and big data alone won't tell you the full story. I'm always amazed at how an industry built on science and research can overlook UX research and measuring success when building their digital products or launching digital campaigns.  
AI in precision medicine and clinical trials will be transformational 
As pointed out in Daniel Yeboah's (Ellerca Health) talk, "Disruptive Technologies That Will Shape The Future Of Pharma", precision medicine is a great example of where big data and AI will have a significant impact. Personalised drugs could be lifechanging for those that fall between the cracks in a system that usually aims for a "one size fits all" approach to drug-based treatments. 
AI-supported clinical trials should help fill gaps and speed up elements of the process — possibly even helping to reduce the gap in the numbers of clinical trials conducted with minority groups.
What about the people behind the data?
In a private conversation, one of the speakers mentioned that pharma was still very much behind big tech or fintech on the subject of big data. With past controversies surrounding Facebook and Cambridge Analytica, the phrase "big data" doesn't always have positive connotations. (One of the talks on big data triggered a few challenging questions from the audience.)
Although pharma is highly regulated, this sector has the financial power to make a big impact on people's health, and therefore on our societies. Manipulating politics and opinions is one thing, but messing with people's health can have a devastating impact on future generations. Some believe regulation and social consciousness are the reason for the slower progress in adoption of AI in this sector. The question is, will pharma learn from their distant cousins in big tech and take a moral stand in using it for good?
We do have to remember that our healthcare experiences are also emotionally loaded. Nothing will replace connecting with real people to understand their deepest motivations and pain points.
The new influencers are not for sale: Democratisation of data and a shift in control of information
Patients and HCPs are increasingly taking control of the narrative around their life or conditions, becoming a trusted point of reference for their peers. 
Real-world, practicing HCPs are becoming the voice of a generation. HCPs that have lived through Covid and want to keep control of their voice and personal brand. They are leading the conversation on treatment, quality of life and real-world challenges. 
Dr Zubin Damania, Dr Kimberley Manning, Dr Muhammad "Shaalan" Beg and Dr. Wendy Sue Swanson are some of the current influencers changing the narratives in pharma. 
This is a very interesting new dynamic and a shift in control of the information, where everyday HCPs are driving the conversation and influencing HCP and patient communities.
Can pharma really get a foot in the metaverse? 
Kyle Brown, Director of Global Marketing and Commercial Excellence at Merck, hosted a discussion on "The Metaverse: Opportunities for Pharma and Its Impact on Patients". He presented his first experiment with elements of the metaverse which was within online gaming. "Periodic Odyssey" is a Minecraft world for students. They have to find elements for the periodic period that will unlock new powers, skins and special in-game rewards. This is one of the few attempts to get Pharma to invest in this reality.
Metaverse and online gaming have very selective communities that will see a salesperson come from a mile away. This world isn't like building a website, people will have strong judgement and make sure they are heard. In a conversation, Kyle even suggested that Minecraft was suspicious at first. Luckily, Kyle isn't your "typical" pharma guy and his project is detached from any brand messaging, focusing on helping students learn.
Big pharma will have to adapt to the new normal. The past 3 years have been full of advancements in technology and generated many social changes. So what worked before won't work tomorrow. Adapting will be key to surviving the competition.  
An obsession with mimicking big tech 
We sometimes joke about it "a shot for every time Netflix, Amazon or Facebook are mentioned" at conferences. I get it, those are incredible success stories that have dominated the press and our lives for the past 10 years.
But, marketers in 'Big Pharma' might be spending too much time looking and talking about copying big tech in hope to attract users. 
I would argue that they are also looking at the wrong moment in time. Big pharma would learn far more from the early days of those companies rather than where they are now. The focus should be on researching gaps in their sectors and copying their obsession with measuring success.  Start with getting a deep understanding of the patients' underserved needs, looking into social shifts and getting a lot — and I mean a lot — quicker at trying solutions and moving on.
We left DigiPharma Connect 2022 feeling inspired after a weekend of interesting and meaningful conversations with some of the industry's most influential thinkers. We'll be closely monitoring developments in these areas and considering the impact they may have on our own projects.