5 minute read
Digital focus areas for 2022: Insights and learnings from HCPs
Here's what we've learned by speaking to HCPs about what they want from the digital products they use, and the organisations who provide them.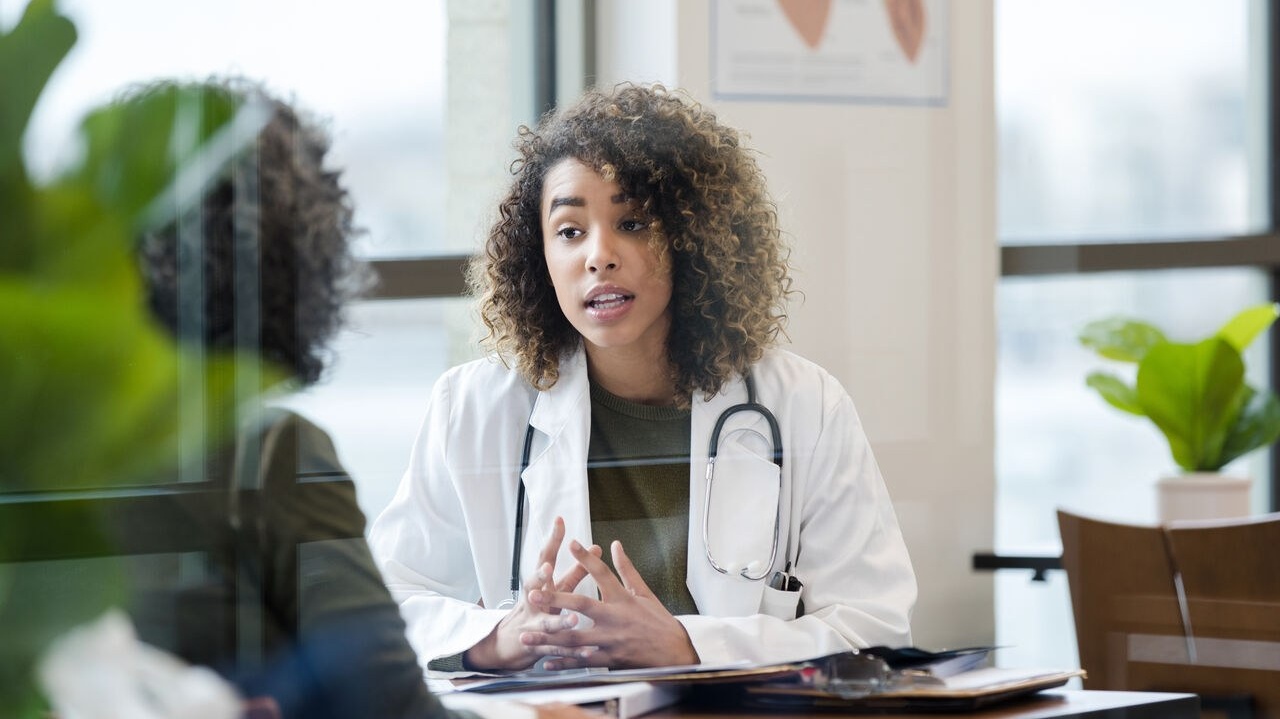 15 December 21
Pharmaceutical
User Research
In the last 12 months, we've spoken to many healthcare professionals (HCPs) about what they want and need from the digital tools and services they interact with, and the organisations who manage them. 
On behalf of our clients — global pharmaceutical companies and healthcare providers — we've deep dived into HCP pain points and preferences by conducting research interviews, usability tests, customer experience mapping and more. Our research has involved speaking to people in a whole host of different professions and roles, located across Europe and North America. 
Throughout, we've noticed certain themes that come up again and again when we ask HCPs what they expect from pharmaceutical organisations when it comes to digital. Here are some of the headlines on what we've learned. 
HCPs have high expectations — which are not currently being met 
Healthcare professionals have high expectations for the quality of digital services they engage with. Like all of us, they're used to having seamless digital experiences in many other aspects of their lives — interacting with e-commerce, online banking, streaming services, etc. 
Although there is an understanding that pharma organisations are at an earlier stage in their digital maturity than other sectors, the bar set for their digital tools and services is still high. 
From our research, HCPs don't have a high opinion of the customer experience of many of the current offerings. This presents a big opportunity for innovative organisations to lead the way and differentiate themselves from competitors by creating digital experiences that truly resonate with their audiences. 
When providing an online service, we are competing against everything that an HCP could be doing with their time online — not only other digital pharma sites or products. So, providing a 'best-in-class', joined-up experience is essential. Otherwise, you run the risk of being lost in the mix along with the other average, or below average, pharma experiences that are currently out there. 
Transparency around service benefits is key 
To persuade an HCP to register for your online service you have to be completely transparent and explain the benefits of registering. Although what you're offering might be 'free', HCPs still need to know what's in it for them, and why they should care about it. You must be very clear about what you require from them (usually their data or proof of their professional status) and most importantly why you need it. Providing personal data is still a transactional process, so they must understand what they will get in return. 
Benefits should be presented in a highly personalised way that shows that you have considered their day-to-day realities of the specific groups of HCPs you are targeting, and how your digital tools or services will fit into them. Processes such as customer experience mapping and user research can help to identify key areas or problems that your specific service will help with. 
Being transparent in terms of how you will interact with HCPs once they've signed up or engaged with the product for the first time is also important. Reassure them about what the ongoing relationship will look like, that you will take the security of their data seriously — and make sure they're confident that you won't be bombarding them with hundreds of emails each month! 
Time-saving features are a big draw 
It's no secret that HCPs are time poor. This is true even more so now, with healthcare systems around the world under increasing amounts of pressure. 
A great way of adding value and strengthening that relationship is to create products and services that save them time, or make something complex easier. Examples that we've worked on with our clients have been improving access to high quality digital learning materials, or building a dosing calculator for a complicated product. 
The feedback that we've received from HCPs when launching these types of tools is overwhelmingly positive. Although there may not be huge immediately obvious commercial drivers for committing to projects like this, they can be invaluable in terms of shaping the overall relationship that you have with your HCPs. 
Non-promotional content is preferred 
In terms of content, HCPs place a higher value on non-promotional content, but do understand the place of product specific information and agree there is still a need for it in order to answer specific questions around medicines and devices.
They don't want to feel like they're purely being marketed to when interacting with pharma-sponsored content. This will erode trust — which we're often told is already fragile. The primary purpose should feel informational and educational. 
As such, the highest value content will be training materials, studies and research that provide specific efficacy information, along with co-created content that was compiled by collaborating with their respected industry peers. Examples include testimonial videos featuring real patients, or recorded conference talks.
Ensuring that content is up to date has also been a recurrent theme this year, with HCPs mentioning the importance of featuring the latest studies and information. 
A hybrid model when it comes to reps is the way forward
A question that has come up often in our conversations with HCPs over the past year has been around how they see the future of their relationships with Pharma Reps and Account Managers evolving. 
The general feeling is that reps still have an important role to play, but the convenience of being able to access information quickly and easily 24/7 is definitely seen as a benefit. 
Pursuing a hybrid approach with effective, meaningful digital products and experiences at the core will enable your reps to take on a more educational role in future. This may be more aligned to a 'Customer Success Manager', than the traditional 'Sales Representative'. All parties will benefit from their focus being on high quality interactions that are centred around customer needs.
Making up for lost face-to-face time through digital 
Most HCPs miss face-to-face events and conferences. This is particularly true for those working in roles where they are more isolated from other sector professionals on a daily basis — such as GPs — and miss the benefits and learning opportunities that come from peer-to-peer discussion.
But, as the uncertainty around the return to many in-person events remains as we head into 2022, the good news is that HCPs are interested in — and optimistic about — how digital could help to overcome some of this and keep them feeling connected. 
Building opportunities for peer-to-peer interaction into your digital products and services will be a key engagement driver going forward. In addition, ensuring that your digital experiences always feel personalised and "human" is important.  

 
HCPs should be at the centre of your decision making process. Speak to them, and ask them firsthand about their wants, needs, communication preferences, pain points, and more. Prioritising this will create value both for them, and your business. With audience demands constantly shifting and evolving, it's also important to do this on an ongoing basis. 
As well as improving relationships, you'll gather the tangible evidence that will give you the confidence to drive innovation internally, make informed choices, and develop the right and most effective digital customer experiences for your customers. 
Do you want to deepen your audience understanding through user research?
Get in touch to find out how we can help.