5 minute read
Generation game: Can the digital era really bring patient-centricity to pharma?
Our Creative Director, Thomas Michalak, writes here for Pharma Times, exploring how pharma teams can improve digital to improve patient experiences.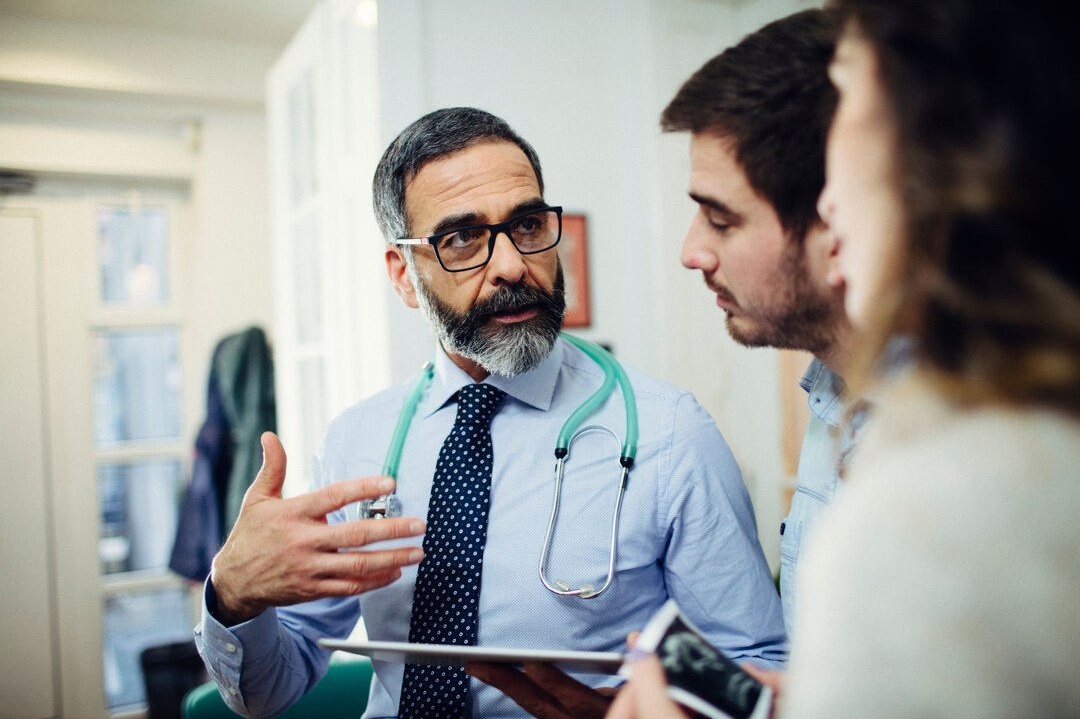 by

Thomas Michalak
13 October 22
Patient-centricity
Digital Transformation
Pharmaceutical
This article originally appeared in the September 2022 issue of Pharma Times Magazine
Healthtech is now the most funded start-up sector – ahead of fintech – with major tech companies investing in this sector and patient-centricity being a recurring hot topic.

Arguably, digital health is the most exciting sector to be involved in, with announcements of new AI-enhanced products, 3D printed tissues, precision medicine and genome sequencing arriving on a daily basis.

Yet our day-to-day experience of care is still very much analogue and stuck with old technology, leaving patients wanting better integration and digital options. People seeking care are still handed information on paper, often as poor-quality photocopies, going home full of questions and beset by confusion, given no choice but to turn consult online communities for answers.

A recent report from Graphite revealed that only 4% of companies say their digital product launches are regularly succeeding. So why does pharma seem unable to respond successfully to the exponential demand for digital?
Maximum impact
With millions of people worldwide 'googling symptoms' before booking an appointment with a healthcare professional, the need for digestible medical information has perhaps never been more important.

Amid the strained healthcare ecosystem patients often believe that information – from mild symptoms to comprehending cancer protocol – is increasingly beyond their grasp from traditional care providers.

Furthermore, as medical literacy is low in Europe some digital providers are aiming to make medical content easier to digest. There are now several symptom checking apps which use everyday language to explain medical terms, allowing people to understand their diagnosis and build health literacy simultaneously.

Compared to information handed over on paper, it's clear how digital content can give easier access to medical notes and vital information to support recovery. Ultimately, automating and simplifying time-consuming tasks is what digital should do best – but that relies on knowledge influencing functionality. And that is particularly pivotal when applied to healthcare.

Patients fighting life-threatening illnesses and exhausting treatments are often still travelling to the hospital for face-to-face consultations. Although digital support for people living with cancer is in its infancy, trials have found that patients' self-monitoring symptoms can increase survival by offering better data points to the medical team overseeing treatment.

In response to evolving trends healthtech companies have already been integrating centres in Europe and providing apps that make patient-reported outcomes convenient, personalised and effective.
Personalised experience
In an industry that has always favoured a 'one size fits all' model, digital health's superpower – personalization – aims to improve treatment adherence. Most digital therapeutics will learn from your behaviour and personalise your treatment based on collected data.

Endeavorrx, for example, is an FDA-approved digital treatment that helps children living with ADHD improve their attention. The game uses data collected during a session to adapt treatment and provide information on the child's progress to the carer.

Another example is Gennev, offering women integrated menopause care with access to their evidence-based digital toolkit, physicians and coaches. These approaches a clearly pioneering case studies of what can be achieved more broadly. Make no mistake, however, the currency of trust is high and gaining this represents a critical challenge for digital health providers.
'In response to evolving trends healthtech companies have already been integrating centres in Europe and providing apps that makes patient-reported outcomes convenient'The lack of evidence on efficacy, combined with little guidance from healthcare providers, has restrained some from embracing digital solutions. When coupled with fears of data breaches or manipulation, it's understandable that many of us have concerns around privacy and trust.

Encouragingly, some countries have taken the initiative to build recognisable standards to help people navigate this digital landscape. Germany put Diga in place in 2019, allowing selected digital therapeutics to be prescribed and reimbursed.

This is building trust with patients and healthcare providers by offering a sense of quality, structure and direction for those new digital treatments. Scandinavia is now taking it a step further with NordDEC5, a unified standard in assessing the quality and efficacy of digital therapeutics. It aims to build a better-integrated health system across the region and increase self-management.

Although challenging, working with local health organisations can ultimately be an effective strategy to increase adoption and trust.

Changing the scene
Historically, pharma has sometimes left women and people of colour behind during clinical trials, but digital offers the opportunity to turn it around. To impact millions with your product, you must minimise bias within your team and consider information beyond an individual's symptoms.

Digital symptom checkers often overlooked race or geographical location, misdiagnosing race-prevalent conditions, such as sickle cell disease. A diverse team combined with diverse user testing sessions will highlight biased assumptions, allowing companies to expand their reach.

The cost of consumer health tech and subscription can be significant. As a provider, being part of your healthcare system's reimbursement seems to be the most inclusive way to reach your audience.

Only 27% of pharma companies conduct user research on their digital products, while the majority prioritise stakeholders' knowledge as a source of insights. Unfortunately, digital isn't a magic wand that will connect your product with people.

Understanding the disease is not the same as living with it and experiencing its impact in your daily life. Before creating a digital solution, conduct diary studies or interviews to highlight underserved needs and opportunities. Explore touchpoints outside interactions with your product to acquire critical context and create a reliable solution that fits people's daily needs.

You will still be competing for people's time – identifying motivations is the first step in creating habit-forming products. As previously shown, convenience and increased quality of life are often among the top needs of people living with a chronic disease or a critical illness.

The second component is the ability to act. Take the time to map out people's journeys. Be aware of existing solutions and accessibility challenges directly linked to the person's health condition. Conduct usability testing on all your solutions and design a product that benefits patients and HCPs.

HCP approval
Healthcare professionals will only follow evidence-based solutions but many, of course, believe that it is helpful to have more empowered patients.

Motivation is the first step in getting approval. HCPs need a reason to accept a digital solution as a reliable source of evidence. Usually, believing in efficacy is the number one enabler.

The second step is the ability to act – HCPs are busy people with intense schedules. In the UK, doctors have been criticised for perhaps 'looking at their computers more than their patients'. Therefore, creating a solution that is efficient and prioritises patient-to-doctor interaction is pivotal.

With this in mind, it is wise to stop focusing on internal knowledge or trying to emulate the competition. Instead, go out there, talk to the people living with the disease and speak candidly to your HCPs.

Leverage insights to create your unique proposition and design a user experience that fits into people's lives.

Improve the digital experience for your users
If you're looking to enhance patient experiences or strengthen HCP relationships through impactful digital products, get in touch to learn more.
Get in touch