5 minute read
How to successfully embrace and implement change
Change is an inevitable aspect of both our personal and professional lives. Whilst some naturally embrace it, thriving off new environments and processes, others find it daunting or disruptive.

We look at how health and pharma organisations can successfully implement digital transformation and organisational change in a way that can be embraced by their teams.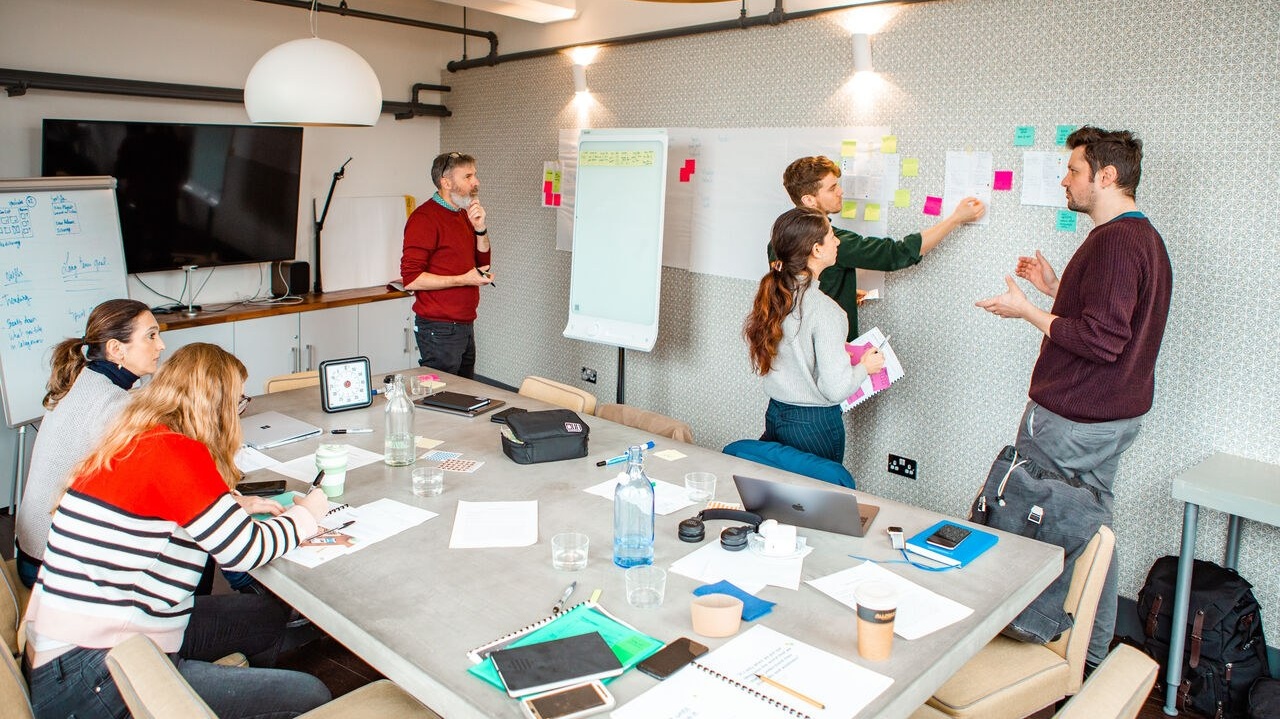 by

Graphite Digital
10 February 23
Inspiration
Change Management
Digital Transformation
Change is an inevitable aspect of both our personal and professional lives. Whilst some naturally embrace it, thriving off new environments and processes, many find it daunting or disruptive. This is true of both people, and organisations. But it is positive when managed in the right way. 
For the clients we work with across the pharmaceutical and healthcare sectors, the last two years have seen change occuring at an extraordinary pace. Many have been redefining business goals, adapting to internal organisational changes and adopting new ways of working — with digital tools, products and services skyrocketing up the priority list. 
With no sign of this digital transformation slowing down, we've been thinking about how organisations can successfully implement change in a way that can be embraced by their teams. 
Incremental change, with momentum and pace 
For the best results, change should be implemented incrementally, with each step being carefully thought-out and managed. Map out what you want to achieve in the long-term, and break it down into manageable, bitesize steps. 
In approaching it in this way you'll come up against less resistance, allowing you to keep the process moving forward. Maintaining momentum and pace when implementing change is crucial for sustaining peoples' faith in the process. 
Audit and understand your organisation's current digital landscape and capabilities. Then, look for opportunities to implement the immediately feasible changes that will make the biggest differences to the digital customer experience for your audiences. 
You should celebrate these small wins, whilst keeping sight of the long-term vision. 
Be realistic 
When implementing change, it's important to be realistic about what will be achievable. You won't be able to do everything at once, so will need to prioritise the areas that allow you to meet both business and customer needs most effectively. 
This will also be important for gaining internal buy-in — presenting over-ambitious plans can set you up for a fall before you've even started. 
Consider what any new digital reality will look like for all parties involved. There will inevitably be some people that will be unhappy with new ways of working, or may not even have a place in the long-term plan. 
Communication is key 
Negative reactions to change occur when the process is left open to interpretation. The way you communicate with your teams when implementing change is key for enhancing shared understanding of both the what, and the why.  
Considered, thorough communication will create clarity, build commitment and confidence and ensure teams are aligned with a shared goal and understanding. 
Clearly explain what the long-term goals for your digital transformation project are, and the steps that will be taken to get there. Layout exactly what you need from people, and when you will need it.
The conversation should be approached delicately, giving people time to digest and to ask questions between steps. Communications should be ongoing throughout the process, providing teams with regular updates on how things are going. 
The value of doing a great internal communications plan to get people on board and excited shouldn't be underestimated. Work with your comms or marketing team — or your external partner — to refine this. 
Balance between top-down versus bottom-up 
Seeking to implement prescriptive, top-down change will alienate your teams. But, there is also a risk with bottom-up, grassroots-led change may not catch on across teams or the wider organisation. It's important to find the right balance. 
Introducing digital products and services requires an all-company, joined-up effort, which will be reflected externally in the digital experience offered to your users across their many touchpoints.
You shouldn't only be focusing on change in terms of high-level business strategies and senior leadership teams. Adapting day-to-day processes and interactions is what really counts. 
Although it won't happen overnight, this will create new habits and enable real culture change.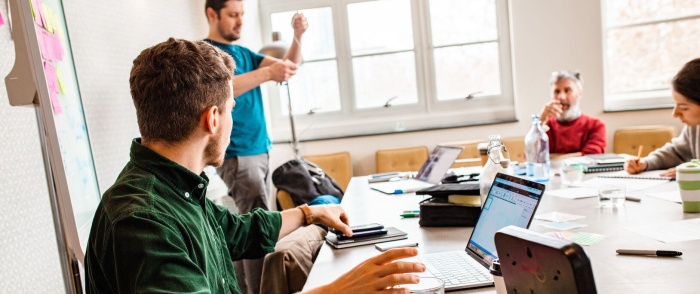 Choose your partners carefully
Don't forget the emotions that come with change. Lots of organisations find it beneficial to turn to an external facilitator or partner to lead on change and guide them through the process. 
Many initial negative reactions to the concept of change are emotional ones, evoking worried questions such as "what was wrong with what we were doing before?" or "where do I fit into this?". 
In working with a neutral third-party to implement change, there is no bias, no history, no ulterior motive, and no preconceptions. There's also the added benefit that they can bring the specialist knowledge that is needed to guide, train and support you throughout the process. 
Identify key people to drive things forward 
Whether you opt for an internal or external team to take this on, identifying key people to drive change forward will be essential. 
When seeking to implement change within large organisations, such as pharmaceutical companies, the process often involves multiple departments and stakeholders. This can lead to hold-ups, obstacles and breakdowns in communication that mean momentum tails off. 
You should identify a person, or small group of people, who will project manage the process and keep banging the drum. 
By taking the steps above, you'll be able to recognise and manage the barriers to change. And give yourself the best possible chance of successfully implementing and managing internal change in your organisation and having a digital future you can believe in. 

 
We collaborate with healthcare and pharmaceutical organisations around the world to deepen customer connection through meaningful digital experiences. 
The areas we work in with our clients are far-reaching and involve collaborating with many individuals, departments, markets, partners, and stakeholders. We act as the glue between people and teams, working to keep everyone aligned to one goal with a shared understanding and confidence. 
If you are looking for a partner to help drive forward your digital projects, get in touch.
Want more on how pharma teams can embrace digital?