11 minute read
How to run a digital innovation workshop remotely and rapidly
Learn what an innovation workshop is and how to plan and manage the workshop in order to achieve the best results in the time available.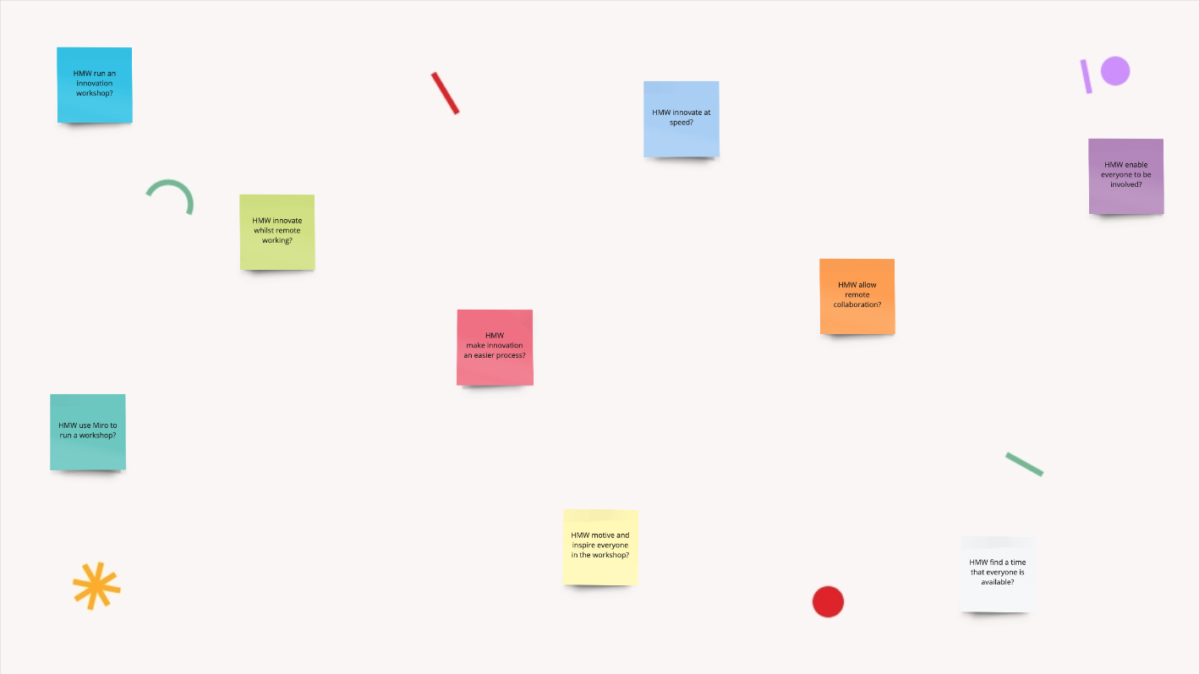 by

Thomas Michalak
07 August 20
Just before the outbreak of COVID-19, Graphite Digital began working on an internal digital innovation project with the aim of using our talented team to help our community in any way we could. As the pandemic worsened and lockdown came into effect, we had no choice but to shift to remote working. However, we weren't about to let this obstacle stop us from running a digital innovation workshop and ideating. 
Our Creative Director Thomas Michalak and Lead Designer Sam Hainsworth, who both have extensive experience of facilitating and taking part in design workshops, hatched a plan to run an internal innovation sprint remotely. In this post, we explore the steps we took to carry out a remote innovation sprint. You'll also discover our top tips and advice to help your team to innovate remotely with successful outcomes.
What is an Innovation Workshop and Sprint?
Innovation sprints are ways in which teams can explore new paths, ideas and innovate through practical exercises and research. Whilst teams can be constantly busy, at Graphite we want to ensure that we create an opportunity for creativity and future thinking, tackling problems that are beyond ours and our clients day-to-day responsibilities. 
Innovation sprints focus on mid-term vision. They aren't for visualising the next 10 years or next quarter but the sweet spot of 1 to 2 years time. This is a deliberate approach to innovation so that we can create innovative ideas that will be desirable, feasible and achievable in the near future. 
Adapting innovation sprints - creating the one day innovation workshop
We have over a decade of experience facilitating design and innovation workshops for our clients. While we usually run these workshops for up to five days (depending on client requirements and needs), we often need to adapt the timings of the workshop to deliver results rapidly, sometimes within a couple of days. 
We have a busy team in normal circumstances, and as the pandemic set in and our clients realised they needed to accelerate the development of their digital projects, our workload started to increase. We decided early on to keep our workshop team to a small group of 6 to 7 people, knowing that they would be the people most likely to have capacity to join. In this instance, to fit around the availability of the team, we managed to condense what would usually be a two day workshop into just one day.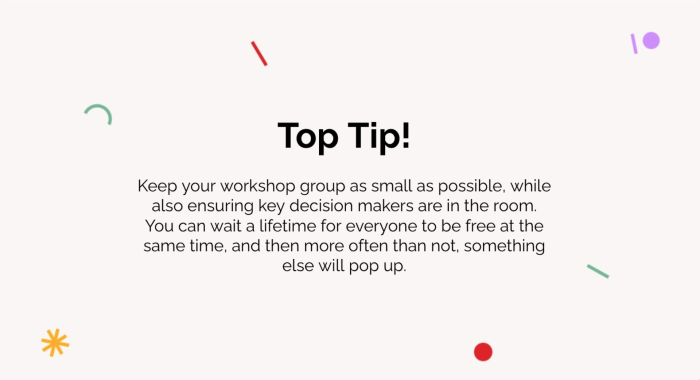 How did we do it?
To make sure we completed all of the tasks in the short time we had, we kept the structure of the session as simple as possible. We set the morning aside to go over our research findings and begin ideating and in the afternoon we would focus on coming up with concepts and sketching initial design ideas.
Preparation and planning for the innovation day
In order to fit our innovation sprint into one day, we had to ensure that we had as much information gathered, and preparation completed so that we could focus on ideation and prototyping in the workshop. Here are some of the steps we took in advance of the day:
Prior to the workshop, design leadership met with the marketing team to agree on the expected outcomes of the workshop, present the concept of an Innovation Sprint and agree on participants.
A week before the workshop we pulled together a lookbook of previous work that had been completed around our subject, to understand the possible solutions. We also looked outside our sector for other inspiration. We asked each member of the squad attending the day to take part in this work to present on the day. We also asked all workshop attendees to bring along examples of inspiration, setting themes and areas to look into. 
We created a Guerrilla survey and shared across social media, to learn more about people's thoughts and understand their attitudes towards our subject, offering a £5 Amazon gift card to each participant as a reward. In under two hours we received over eighty responses. These insights were quick, but offered vital information to take into the workshop with us. 
The insights gathered allowed us to create user personas, and gain a better understanding of user pain-points and opportunities. We grouped the user research feedback into themes to be explored. It also uncovered elements of the subject that we hadn't yet considered, which created new areas for thinking.
Our Lead Designer also plotted a customer journey map in advance of the session.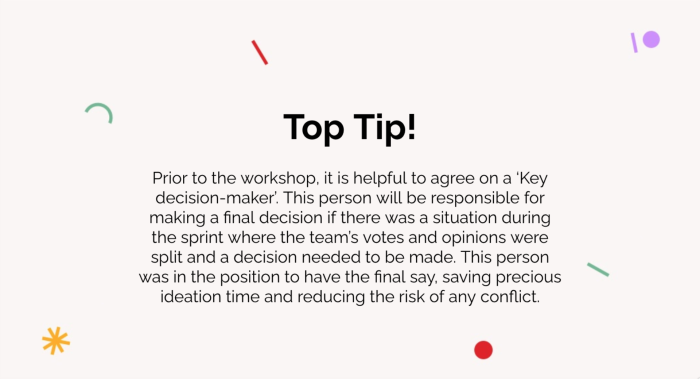 Using Digital Tools for remote collaboration
While working remotely, we have been using a tool called Miro to run virtual workshops with clients. Miro is an online collaborative whiteboard platform that allows teams to work together creatively while remote. The software mimics tools we usually would physically use in an innovation workshop including post-it notes for ideation, a timer and the ability to vote on ideas, create diagrams and insert images. Miro also has the ability to video call so you can still see your co-workers faces as you work together. However, we chose to use Google Hangouts for our video call due to its integration with Google Calendars, and the ease of screen-sharing so that the team could present their inspiration. It also has a clearer picture than Miro's video feature. You can't have it all...
The Innovation Workshop Day
When the preparation and planning work was completed it was time to run the Innovation workshop day. Our team day was facilitated by our Creative Director Thomas Michalak who made sure to keep time throughout the day and explain the plan for the day at the beginning of the workshop - ensuring everyone kept focus and understood the rules for the day. This role is vital to ensure that everyone realises you are going to make excellent use of their time in this workshop and get their commitment to the day. The facilitator provides the framework that helps everyone in the workshop succeed, a great facilitator energises the team too and gives positive feedback throughout. Remember an innovation workshop is a time to create something that really matters to your customers and could improve lives. 
Setting the Timing for a 1 day workshop
To ensure that all of the tasks were completed within the one day workshop, we had to stick to strict timings for each section. We utilised the timer feature on Miro to set a visible to all countdown of how much time was remaining for each part of the workshop. Each time the team was asked to complete a task, we set a maximum of 10 minutes to do so. We feel that this was the optimum time to allow the team enough time to think about the problem and write down their ideas, but also not allowing too much time so that there are too many ideas to work with.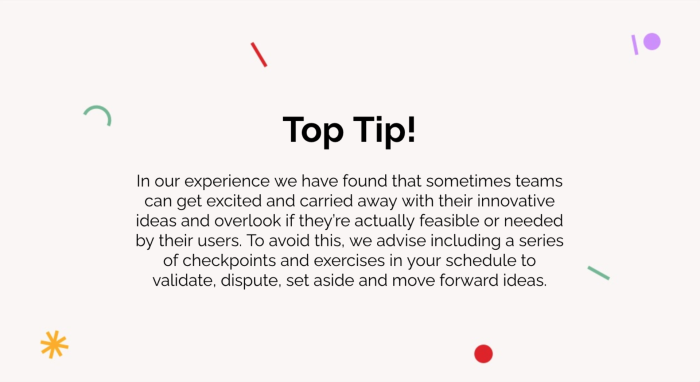 The Recap & Goals
The first stage of the workshop was to recap on what has happened so far in the project including the purpose, goals and context of the project and the workshop itself. It is beneficial to run through any research that was carried out prior to the workshop so your team understands who the users are and the problems they are experiencing.
We also ran through the current user journeys using a diagram pre-plotted on Miro so the team could identify and understand any pain points for users and the impact that they could have on the overall user journey and experience.
Sharing Inspiration
Prior to the session, the team were tasked with individually researching to find some form of inspiration that they could bring to the workshop with them. The purpose of this is to use other innovative products currently in the market and think about why they are successful and why users use or like the product. Then take time to think about how you can apply that to your own project. It is a great way to begin the workshop and get everyone thinking, get their creative juices flowing and make everyone feel inspired. It meant that the team could focus their time more on the ideation instead of spending time researching during the workshop. It also enables everyone to be engaged and involved from the outset of the day.
'How Might We?' Exercise
'How might we?' (HMW) is a term used to help teams phrase problems in the form of questions to help with ideation and creating solutions. The "How Might We" exercise is a classic design thinking activity that involves reframing your problems as a "How Might We?" question. Therefore turning those problems and challenges into opportunities for design.
An example is taking the issue such as "I find it really confusing when trying to book an appointment" from user research and re-writing it as a HMW statement; 'How might we make it easier for people to schedule an appointment?'. Or the issue "I am unable to join in due to my disability" and re-writing it as 'How might we give everyone the opportunity to be able to take part in this event?".
On the day we gave the team a set amount of time to write down their HMW statements' on post-it notes before they were organised into agreed themes. These statements are a great place from which to start brainstorming and ideation.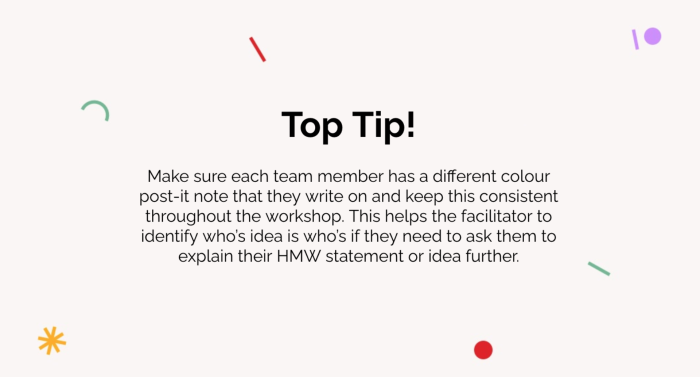 Brainstorming & Ideation
The next stage of the innovation workshop allows the team to ideate using the user journey diagram, the inspiration each of the team brought to the workshop, and the "How Might We" statements. Usually, the team will come up with ideas under each type of persona and their needs. The timer was set for each persona while the team added their ideas beneath them on virtual post-it notes on the Miro board. All ideas were then grouped under common themes so it was easy for the team to vote on and discuss further.
Voting
Using the Miro voting function, the team were given a number of votes to use on the ideas that they thought we should take further. We decided that seven was the right number of votes for each person in our innovation sprint as we had several ideas that could link together, so we wanted to give people the opportunity to vote on a few of those ideas. The team were allowed to vote twice on any ideas that they really believed in, but no more than twice. Once everyone had finished voting, we identified the ideas that had the most votes. As there were five people in the workshop, a vote had to have at least three votes to qualify as 'popular'.
Sketching
The ideas that received the most votes were then delegated to each member of the team to do a quick sketch and concept of the idea and user journey. Each person was given an hour to think about what they wanted to include in their concept and sketch out each screen they were assigned. This may sound daunting if you're not a designer, but this doesn't have to be perfect! Just a rough drawing will do to help get your idea across.
After the hour, the team re-grouped on Google Hangouts and added all of their sketches into the Miro board. We all took some time to look through everyone's sketches and put a post-it note on the designs or features that we liked best. We then worked through each of the designs and each person spoke about why they liked that design and the designer explained a bit more about why they made certain decisions in their sketch.
Outcomes and Next Steps
At the end of the sprint workshop we had over ten sketched solutions/prototypes to our problems and challenges that we could take forward into testing.
With some concepts in place and our design ideas ready to be written up into a creative brief, this brought the workshop to an end. Our next steps are to begin to design an initial prototype from the sketches and concepts that the team came up with during the sprint. Once complete, we will take the prototype into user testing so that we are able to receive real feedback directly from the mouths of our potential users.
Graphite has over a decade of experience of running workshops with clients in the healthcare and pharmaceutical sector to achieve digital innovation and transformation. We work collaboratively with our clients to bring their UX vision to life. Get in touch to learn more about running an online remote workshop with us, or alternatively visit our Design Sprint or User Research service pages.