6 minute read
How can digital help close the cancer care gap?
We look at some of the ways in which digital tools and technologies can help overcome barriers for health access and close the cancer care gap.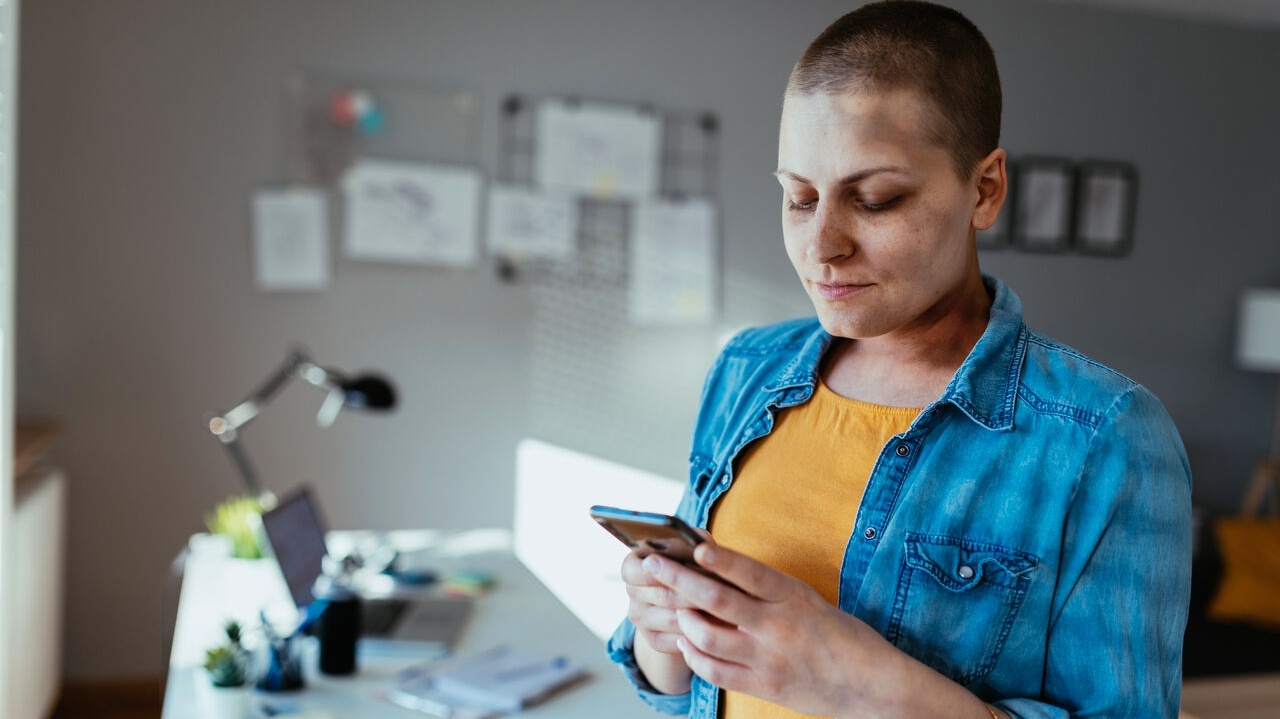 The theme of this years' World Cancer Day on 4 February is 'Closing the Care Gap'. 
Despite the fact that we live in a time of astonishing advancements in cancer prevention, diagnosis and treatment, there are still huge disparities in quality of care,  treatment, and survival rates across different groups. 
The top social determinants of health are gender norms and discrimination; barriers for minority populations; poverty and socioeconomic status; the rural-urban divide; age discrimination; ​​​​​refugee status and forced displacement; homophobia, transphobia and related discrimination.  
So, what can be done to address this? We've taken a look at some of the ways in which digital tools and technologies can help overcome barriers for health access and close the cancer care gap. 
Virtual appointments 
Replacing face-to-face appointments with virtual ones, where possible, can save cancer patients significant amounts of money and time spent travelling to and from appointments. For patients from disadvantaged socio-economic backgrounds who may already be suffering due to lost earnings whilst unwell, reducing the financial burden of treatment wherever possible is crucial. 
There also are notable differences in cancer-related outcomes for rural and nonrural patients, even in high-income settings. Through the increased prevalence of virtual appointments, this inequality can be somewhat reduced by connecting patients in rural environments with specialist oncologists virtually, regardless of location.
See a recent article we published on the social benefits of telehealth here. 
Access to low-cost support services 
It's important to remember that there is more to cancer care than just the clinical side — things such as finance, mental health, childcare will be impacted. In recent years, many apps have emerged that focus on offering a holistic range of support services for cancer patients. 
Untire is an app for patients and cancer survivors who are suffering through cancer related fatigue. Developed by psychologists and based on Cognitive Behavioural Therapy (CBT) and Mindfulness-based CBT (MCBT), it aims to reduce fatique by engaging users mentally and physically. The app is completely free of charge, removing the barriers to often costly professional mental health support, and has been reporting significant results amongst users. 
Other examples include Alike, a peer-support app which aims to combat isolation and loneliness throughout treatment by allowing patients to share their experiences and connect with one another, and Create to Heal, which uses guided meditations, music, art and animation to help reduce stress. 
Building awareness through highly targeted digital marketing
Using digital channels healthcare organisations, charities or public health bodies can create highly-targeted awarness campaigns to reach groups that are being disproportionately affected by types of cancer. 
For white women in the US, the five-year survival rate for cervical cancer is 71%. For black women, the rate is just 58%. Using data that social media and tech companies already hold around peoples' demographics, organisations can target, for example, "women of colour over the age of 55" with information about local cervical cancer screening services, or an awareness campaign around early symptoms. 
These types of focused campaigns could be replicated to target almost any specific group to help address the imbalance in their cancer outcomes. 
Helping patients navigate treatment and care 
In lower middle income countries, or amongst other disadvantaged groups with lower levels of education, some patients may not have the means to understand what is available to them in terms of identifying symptoms, navigating treatment and seeking appropriate care and support. Treatment adherence can also be lower with patients struggling to keep on top of complex treatment plans and becoming overwhelmed without additional support. 
New digital health tools are seeking to address this by offering simple, patient-friendly ways for patients to access information and engage with services. 
In Nigeria, where, due to a short supply of clinicians, 1 oncologist treats an average of 1250 patients, the Sebeccly Cancer Care and Support Centre is helping patients navigate and access earlier cancer diagnosis and treatment with the launch of the digital tool Oncopadi. Through the platform, patients can consult a specialist oncologist via a video or voice consultation, and access expert opinions on diagnoses and treatment options. It also provides accurate information, coping tools and resources that help reduce the cost and complexity of care.
In the UK, Macmillan Cancer Support have recently announced a partnership with Careology, a digital care platform designed to help patients feel safe and well-equipped to manage their own cancer treatment. It will connect 3 million patients with friends, family and healthcare teams, and also allows them to monitor and share key health metrics such as symptoms, side effects and medication adherence. 
Building trust 
A lack of trust between marginalised communities and healthcare services can lead to later diagnoses, and in turn, lower survival rates or treatment outcomes. 
By improving the access that patients have to their own data, using electronic records or other digital means, patients become better informed and engaged and more able to self-manage. This increased transparency can improve trust between patients and healthcare providers. 
The BELONG Beating Cancer app is the world's largest anonymous social network for people with cancer and their carers to interact with other patients to offer peer-to-peer support and share first-hand experiences. The anonymity of the app encourages people from all groups in society to engage with the patient community without fear of discrimination of any kind. 
Inclusive and accessible digital patient information 
In many cases, information about cancer treatment and disease understanding that is handed out by HCPs at early stage appointments is still provided physically in the form of leaflets or flyers. 
By digitising this information in the form of a web page, app, or similar, it can much more easily be replicated in formats that work for all patient groups — regardless of first language, visual impairment, etc. Considering the crucial nature of the information included within these materials, this is especially important. 
You can translate information into multiple languages, allowing the patient to select from options to suit them, or add simple functionality to increase text sizes or colour to ensure the contents are accessible. Patients that rely on screen readers will also be able to process the information — removing the risk of an HCP not having an up to date braille copy of a leaflet to hand. 
 
When embraced as part of a joined-up global effort amongst both individuals and organisations digital tools have the potential to make big positive steps towards narrowing the cancer care gap. It's important to remember that people will have varying levels of comfort with digital technology, so a seamless, intuitive customer experience (CX) that puts the needs of the user first is crucial. 
We're excited to see how new solutions will impact the experiences of all patients in the coming years. Read more about the World Cancer Day 'Closing the Care Gap' initiative and how you can help spread the word or make a donation here.