4 minute read
A day in the life: Marketing Executive
Over the past few months, our team have been sharing insight into their roles and responsibilities working in a digital design agency. Check out our website for a 'Day in the Life' of a UI Designer, Senior Operations Manager, Clinical UX Researcher or Account Manager. Here, Andi Baydur takes us through the role of Marketing Executive.
by

Andi Baydur
08 August 23
Life at Graphite
Agency Life
Marketing
Tell us a bit about yourself
Hi, everyone I'm Andi, I live in Brighton, UK, a seaside city in the UK. In my spare time, I enjoy staying active, creating delicious and nutritionally rich meals and, illustrating. I was inspired in my previous role as gallery manager of a small start-up, to upskill and begin a career in marketing.
In order to become qualified, I was developing my knowledge in a range of areas including digital and design skills, so when I came across a work-experience course focused on digital design, it was a no-brainer - I HAD to apply! I was even more excited when I noticed how cool the agency that was hosting the work experience was, and, to cut a long story short(ish), that agency was Graphite Digital! During the work experience, the trainees meet the Graphite team, and when we met Amy Breakwell (Marketing Manager) she mentioned they were looking for a new Marketing Executive and, well… here we are!

What is your title and how long have you been in your role job?
I've been in the role of Marketing Executive at Graphite for 7 months and have settled in, but am also still learning, which is great. Agency life can be fast-paced and there hasn't been a dull moment since starting as there's always something to be done.
As part of the Business Development team, I support a range of initiatives to create opportunities, build up client relationships and generate new leads within the digital and healthcare & pharma sectors. Duties include supporting with social media and website administration, content creation, and various research. No day looks the same, each consists of a unique set of pre-determined tasks and any high-priority tasks that may come through, so it's really important to be organised and prioritise.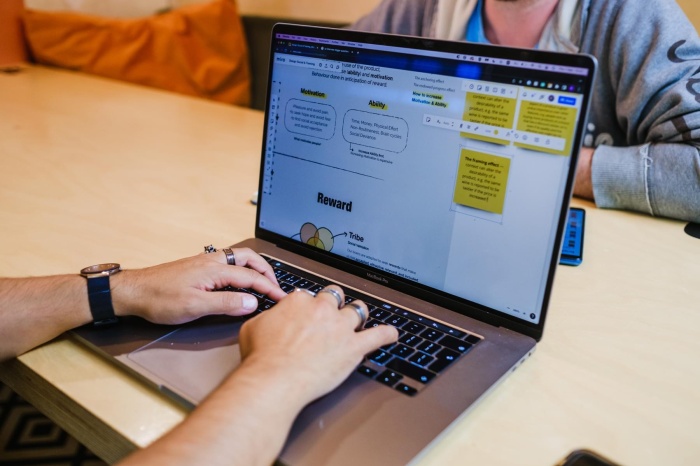 What skills are required in your daily work?
Having good interpersonal and communication skills is a good start, as it's necessary to be in contact with other team members to ensure work runs smoothly. A keen willingness to learn has come in very handy, as coming into the role my knowledge was limited, but there are ALWAYS opportunities to learn and develop as long as you are self-motivated to put in the work.
Many of my assignments are research-based, which is great as I'm someone who enjoys research - having the ability to conduct research and pay attention to detail is necessary. Some examples of research include but aren't limited to event preparation, competitor analysis and new business exploration.
Publishing team member's content on our website, affiliate sites and social media is something I do most days and as I've started to get a clearer understanding of the industry, agency, etc, I've started becoming more involved in content creation. Following specific processes and guidelines and being proficient in IT and digital literacy is important for publishing, content creation, and most other projects.

I've given a brief overview of some of my responsibilities as we'd be here all day if I tried to go through them all! If you're someone looking for a role with variety with the ability to task switch and manage a varied workload, I recommend marketing.
What do you wish you would have known about your job before starting?
That it's a marathon, not a race! I wish I knew that it would take me a lot longer than I thought to become confident in my role. By the 6 month mark, I was expecting to have a deep understanding of the industry/sector and tasks, the nuances of marketing AND the ins and outs of Graphite. Needless to say, I'm not there yet.
Everyone starts in the same boat; by learning on the job and progressing over a much longer period of time than a mere 6 months. It's really important to take breaks throughout the day and slow down enough to think and digest information rather than just rushing through to check tasks off the list. With that in mind, it is important to be efficient and finish tasks in a timely manner, which happens over time as you grow into the role. Lastly, making mistakes is a vital part of the process and by asking questions and taking onboard feedback, you're on the right track.

What do you love the most about your job?
I enjoy the autonomy the role allows, and being a part of the Graphite team as a whole but specifically, the marketing team managed by Amy, who is a real pleasure to work with. It's true what they say; that the people make the place.