4 minute read
Overcoming contradictions and barriers in digital pharma through a change of mindset
Six months on from releasing our research report, we reflect on the themes raised and offer practical advice on how contradictions can be overcome to enable digital success in pharma and healthcare. 
With perspectives from Graphite, as well as leaders and changemakers from across the sector.
by

Graphite Digital
21 December 22
Pharmaceutical
Digital Product Success
User Research
In Spring 2022, we published new proprietary research, The Contradiction Conundrum, exploring how pharma organisations are currently approaching their digital products, services and strategies. Conducted in partnership with Reuters Events Pharma and based on the views of 450 global pharma professionals, the report revealed some contradictory statistics and areas of opportunity for pharma teams who want to stand out and get ahead.
Since publication, we've had many conversations with digital leaders across the pharma and healthcare sector, reflecting together on the report findings and how they resonated with their own experiences and challenges.
In our new white paper, drawing on the insights from these conversations, we'll look in more depth at the practical steps that organisations can take to overcome these contradictions in order to improve the impact of their digital products, strengthen customer relationships, and maximise ROI.
What do we cover in the special edition?
1. Mindset and ways of working 
We explore the role of mindset in digital transformation and look at how can a mindset shift be achieved — both at an individual and organisational level. We also look at what pharma teams can learn from other sectors when it comes to mindset, and how change can be effectively managed. 
2. Strategy and measurement 
A fundamental aspect of evolving mindset will be moving to a more measurement-focused approach with a clearly defined strategy and goals. We look at why pharma teams often struggle with measurement, and what can be done to overcome these challenges. 
3. User research and design 
Speaking to customers first-hand will be essential when seeking to adopt a more customer-centric mindset and approach. We take a look at the importance of user research and share our advice on how common internal barriers to user research can be overcome. 
Looking to the future: digital success in 2023
Finally, we look at where you should you be focusing your attention and budget to have the biggest impact on your digital products and services in 2023 and beyond.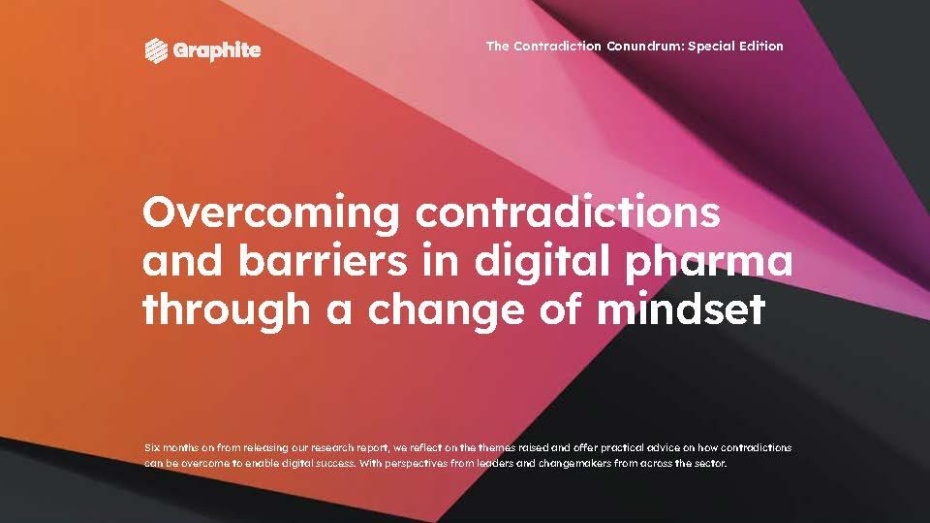 Download resource
Back in May, we released our research report, The Contradiction Conundrum, in partnership with Reuters Events Pharma. Based on the views of sector professionals, it highlighted a number of contradictions in how organisations are approaching their digital products and strategies.
Drawing on our follow-up webinars and other conversations we've had about the findings, we're excited to publish our follow-up special edition. Featuring views from Graphite as well as friends and clients at Astellas, Amryt, Haleon and others, download your copy now.