5 minute read
Partnering with Luminate to support our teams' wellness in the workplace and beyond.
We prioritise the wellness of our team and offer benefits to ensure everyone's health is being supported in and outside the workplace. Now, with the additional guidance of Luminate, we are armed with facts and practices to improve our health. Learn more about our partnership.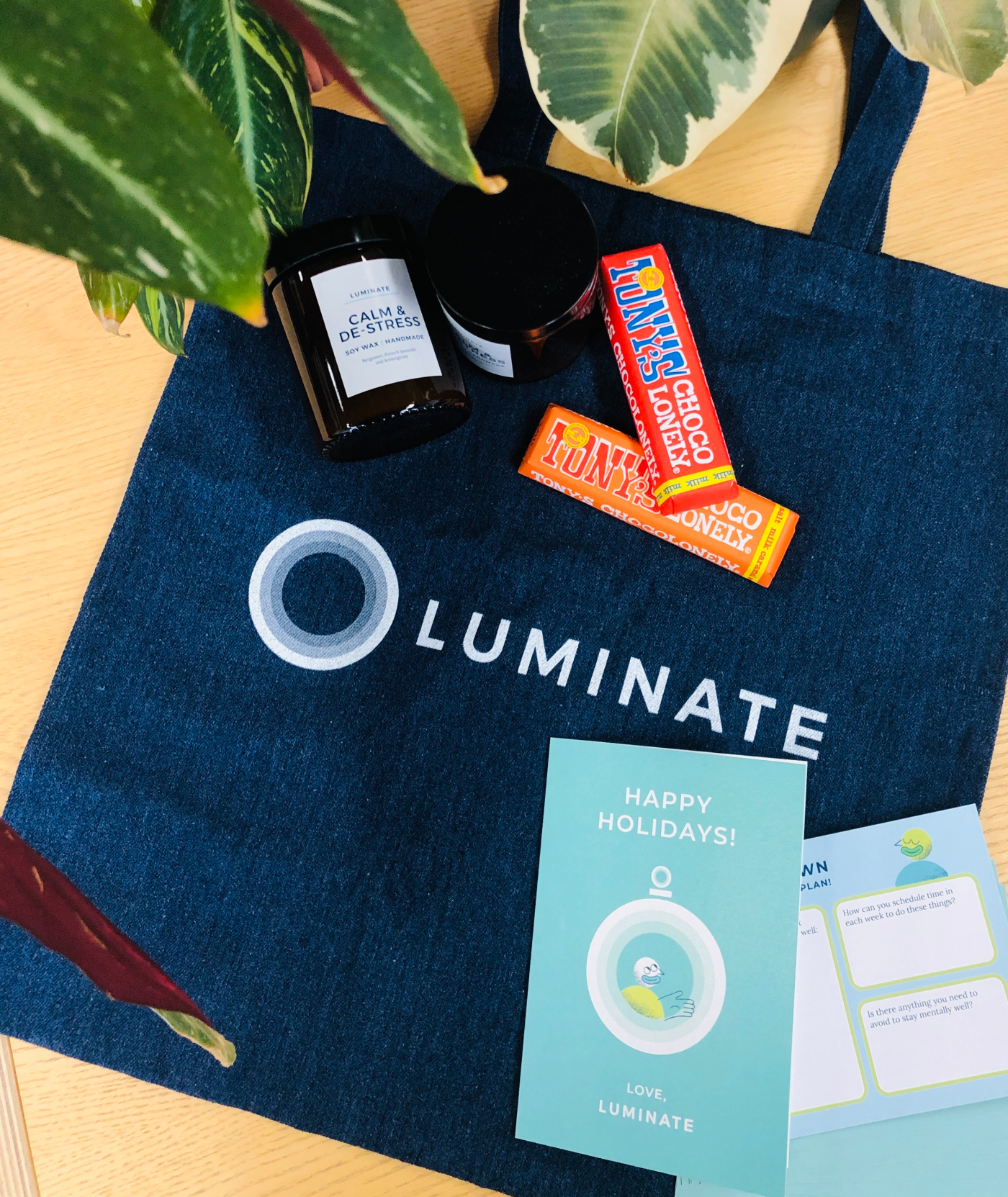 by

Graphite Digital
30 January 23
Employee Wellness
Mental Health
Wellbeing support
We're always on the lookout for new ways that we can support our teams when it comes to their wellness, mental health and personal development.
We're incredibly excited to have recently launched a partnership with Luminate — a mental health consultancy that supports businesses of all sizes to increase workplace wellness.
They'll be facilitating a series of webinars for the whole team on subjects such as nutrition, managing anxiety and the importance of movement, and will also be available for one-to-one coaching sessions and mental health training for all our line managers.

Who is Luminate?
Luminate is a mental health consultancy with a mission to "help dramatically improve mental health in the workplace". Luminate, founded by Melissa Crate in 2015, work on a group and one-to-one basis to meet individual business needs and deliver bespoke programs that help create happier healthier workplaces. The team consists of expert facilitators, coaches, and counsellors, who offer a comprehensive range of well-being and mental health services.
The sessions are grounded in behavioural science and psychology, draw upon lived experiences, and include interactive elements. The impact of every session is measured to inform insight and the next steps to drive your well-being agenda, ensuring you, your company's culture and profitability are on track to achieving growth through positive change.

Why did we want to partner with them?
Everyone wants to feel safe, valued and supported in their place of work, so we try to find ways to root and maintain this in our culture at Graphite. The fast-paced nature of agency life has the potential to take a toll on mental health, so providing all our employees with real ways to manage or prevent this is vital.
Each unique Luminate programme carries one consistent element; to get everyone emotionally invested in their individual and collective well-being. For these reasons and more, we partnered with Luminate and look forward to the growth that key tools and details about optimal health will allow.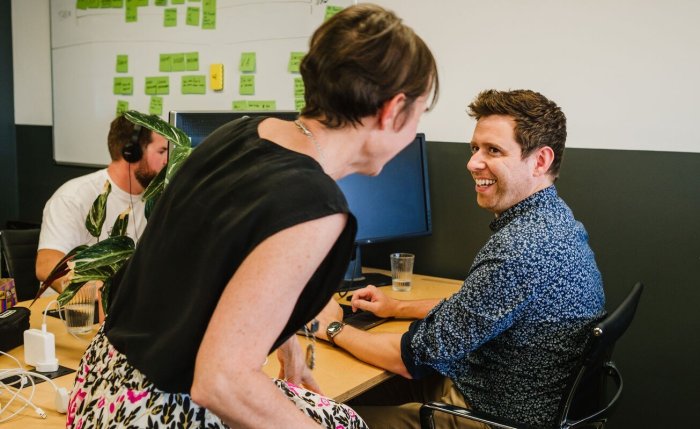 What will the sessions cover?
The Luminate team will be running 6, hour-long interactive sessions throughout the year across a range of wellness-related topics. The sessions aim to provide individuals with a toolkit to understand their overall well-being and make small, achievable changes that lead to long-term improvement.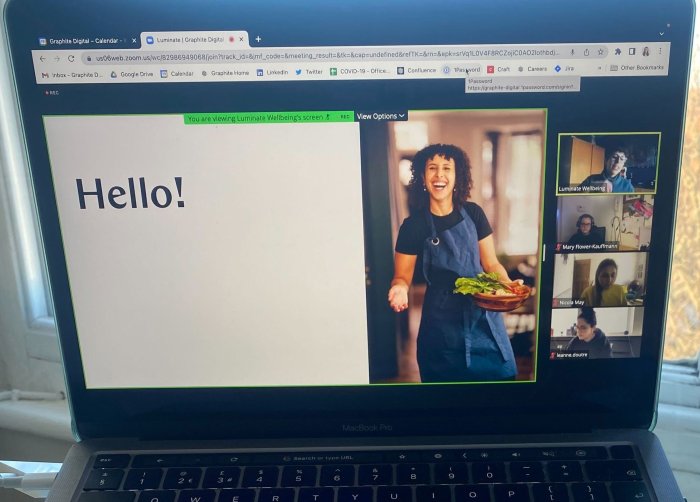 Nutrition
We kicked off 2023 with a boost, thanks to our first Luminate session 'Eating for Energy & Productivity'. Nutritionist Sam Hamrebtan educated and surprised us with vital insights, helping us understand the science behind food nutrition.
We discussed things such as the nutrients our brains need for energy and food ideas to meet nutritional requirements. We came away with a tool kit filled with ways to correct or develop our eating habits, allowing for infinitely more energy.
Boosting happiness
The session on 'Boosting happiness' aims to help us to understand what scientific research says about happiness and reflect on what brings more happiness into our own lives. The goal is not to always feel happy, but to identify and eliminate things that may be preventing us from accessing happiness.
Managing anxiety
This session aims to help us understand where anxiety comes from and why it happens. Instead of trying to eradicate anxiety altogether, the training provides tools to manage anxiety so it doesn't interfere with daily life.
Made to move
The 'Made to Move' training session focuses on why movement is important, which can provide us with a deeper understanding of how to incorporate ways of moving into daily life. The session will cover various types of movements such as ergonomics, posture and science-based exercises, all to improve overall physical health and well-being.
Building resilience
'Building resilience' will focus on the importance of understanding one's purpose and motivation and the role of social networks in resilience. The goal of the session is to equip individuals with the tools and knowledge needed to build and maintain resilience in the face of life's challenges.
Financial well-being
Training for 'Financial well-being' can help individuals improve their financial health by teaching budgeting, planning, managing credit and understanding the link between mental health and money. The session will also focus on shaping beliefs and thoughts around money to improve mental health and well-being.
One-to-one coaching sessions
There will also be optional one-to-one coaching sessions available for our teams to book into.
The coaching service is available to help embed their Luminate learning with one-to-one, tailored support. It is designed to help individuals close the gap between knowing what can improve their well-being, and actually implementing those changes in daily life.
Mental health awareness training for line managers
Mental health awareness training is crucial for management teams and individuals to have the tools necessary to deal with any wellness or mental health-related issues that may arise within the workplace.
The training helps to build awareness around different mental health conditions and teaches how to spot the signs of someone who might be struggling with their mental health. It also creates more confidence in addressing any concerns about a colleague's mental health and provides guidance on how to have conversations about mental health in the workplace.


Looking forward to a year of working together on our wellness.
We're excited to be partnering with Luminate and looking forward to gaining new tools and knowledge to support our collective and individual well-being in 2023 and beyond.