8 minute read
A Day in the Life of a Junior Project Manager
Here, we learn about our Junior Project Manager, Lynsey Moran, who explores the role and her responsibilities. Read on to find out a little more about her and what it takes to be a Project Manager!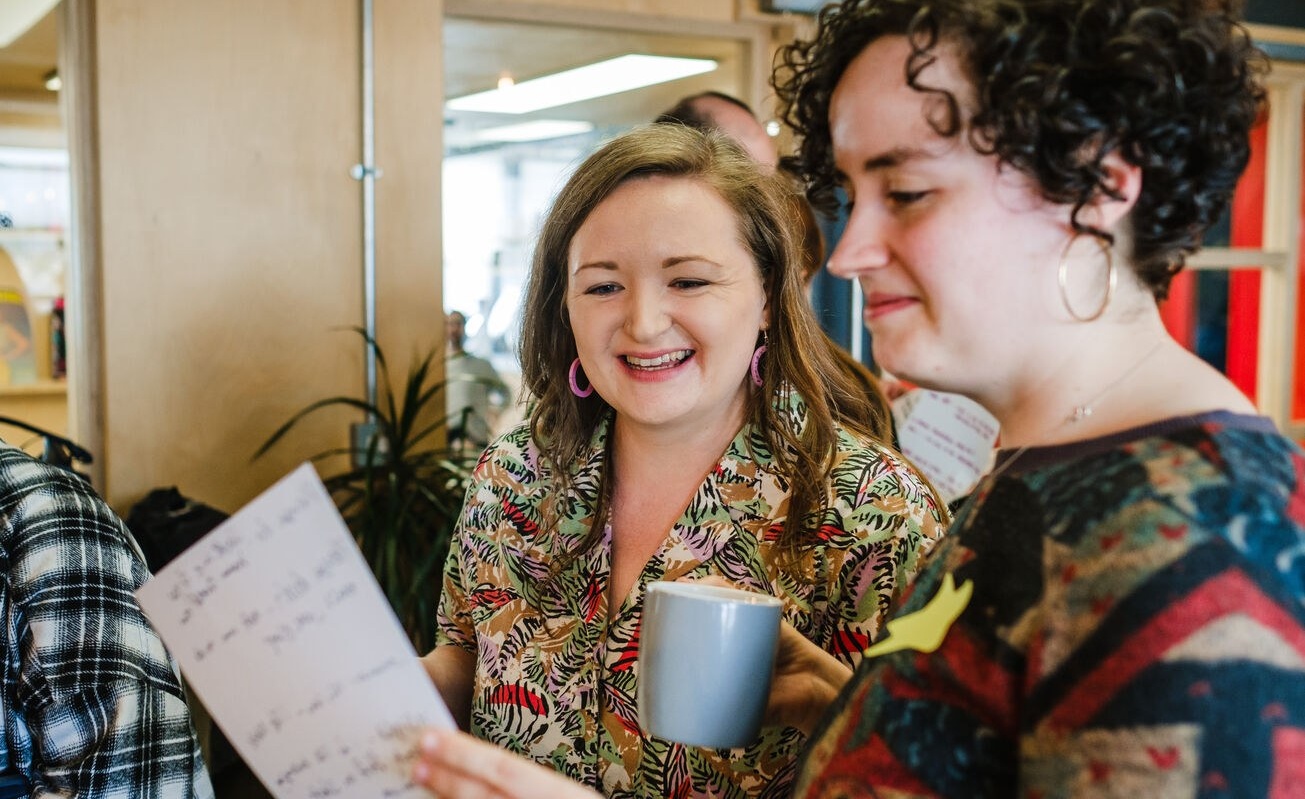 by

Lynsey Moran
14 August 23
Life at Graphite
Agency Life
Project Management
A bit about me
I'm Lynsey, I was born in London, moved to Kilkenny in Ireland at aged 11, and then moved to Wales for university in Aberystwyth to study for a BA in Performance Studies & Drama. After graduating, I moved to London which is where I live now. I'm a bit of an accent chameleon, depending on who I'm talking to!
I love to watch live comedy shows, visit art galleries and museums, travel, cook and eat delicious food! I thrive from learning, so you'll find me reading books and taking part-time courses to keep my brain active; I'm currently learning Japanese.
My career journey
My previous roles have been across a broad range of areas, including; Event Management, Facilities department, Well-being, Personal/Team Assistance, HR department, Customer Service, Catering, Theatre and Stage Management, and finally Project Management.
I'm currently a Junior Project Manager at Graphite Digital, I've been working here for over 2 years now. I started working with Graphite during lockdown as a virtual yoga teacher, leading a monthly class. After building strong relationships, I was asked if I'd be interested in a Contractor role as Project Administrator as I had previous experience. I did this role for 2 months before applying for the permanent role, Graphite offered me a Junior Project Manager role as I shared I've wanted to become a PM for years. They saw potential in me and took a chance, the rest is history!
Fast forward to today, I'm a qualified Scrum Master and currently project manage the VHI Squad (the largest health insurance company in Ireland), alongside internal marketing and CSR (Corporate Social Responsibility). I also volunteer as a MHFAider (Mental Health First Aider), as mental health awareness is very close to my heart.
As mentioned before, I'm a qualified Yoga and Meditation teacher, I host weekly meditation sessions at Graphite on Monday mornings and host other virtual sessions outside of my day job.

A few things I've been involved with over the last 2+ years at Graphite:
I've project managed just over 20 projects since joining.

Implementing and developing new processes (e.g. new Jira workflow).

Creating and implementing project documentation and templates to streamline processes to enable squads to become more efficient.

Attended and aided in facilitating innovation workshops.

Conceptualised and organised three Mental Health Awareness Week programmes to help support Graphite employees' well-being, aiming to create an open safe space to discuss mental health.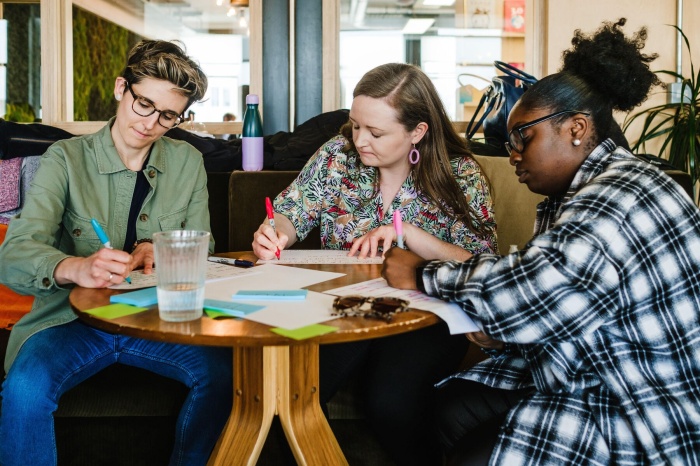 What skills are required in your daily work?
There are many skills required to be a project manager! My role at Graphite is a bit of a hybrid role, as I work on the VHI account; so as well as wearing the PM hat, I also wear an Account Manager's hat, as we do not have an AM in our squad.
Here's a list of the key skills required from my point of view and experience:

1. Organisation:
Organisation goes hand in hand with project management. You have to set expectations early, define the scope of a project, continually review progress against a timeline or plan; the list goes on! The best way I keep organised is using the '4 squares exercise' (read more about it here).

2. Communication:
Communication is a key skill for a PM to develop. Being able to actively listen while picking up on nonverbal communication is very useful when speaking with your team or the client. Taking detailed, concise notes to record conversations and agreed actions is also very helpful, as this allows your team/client to stay accountable for the actions they have agreed to. It also helps to document the project as it's happening, therefore, when you complete a project you can look back on key decisions and learn for the next project.

3. Leadership:
Be the positive light that keeps the team engaged and on track, even if there are bumps in the road. Being able to delegate and understand your team's skillset is very important, as it will ultimately help in delivering a project in a smooth and efficient way while remaining under budget. Encourage the team and provide feedback, making sure not to micromanage.

4. Problem-solving:
Being able to foresee issues, can help a project run smoothly. Mindset is vital here, as you need to remain calm and positive, while also clearly communicating any impact. Listening to your team, asking them for solutions and then also offering your own solutions is the best way to collaborate together. Linking back to note-taking skills, recording issues as they develop and any changes you implement can help you analyse the project, which in turn helps learn for future projects

5. Relationship building and collaboration:
Creating strong relationships internally and externally is essential, as you are the person that connects everything together. Taking time to get to know people and remembering that we are all human at the end of the day. Understanding everyone's personal preferences to ways of working and finding a balance.

6. Emotional intelligence:
Be able to read the room and stay calm, especially when there are many things thrown at you at once. Be resilient while remaining mindful of people's well-being and happiness, implementing any changes that can support them before it becomes an issue, as their well-being is important. It could eventually impact the work they are responsible for. Also, as an MHFAider, I'm very passionate about sharing mental health awareness and educating others on different MH conditions, rather than ignoring and burying our heads in the sand.

7. Understanding client briefs, creating proposals, gathering estimations and negotiating:
A client brief is a document that outlines the requirements, scope and deliverables of a project that the client would like to be met; it sometimes includes the amount of budget available. Time needs to be taken with the squad to review and question the brief to ensure we have all the information we need in order to write up our proposal, along with gathering estimations and defining the timeline. Once the proposal is ready for the client's review, you may need to negotiate the timings and budget required to complete the project. To be a negotiator, you need to possess qualities like patience, adaptability, persuasion and integrity.

8. Budget management:
Managing a budget will help set you up for success! Regular timesheet checks, reporting and analysing will allow you to forecast the rest of the project and therefore adapt things as you move forward to ensure you do not go over your set budget. Being comfortable with maths a is requirement for project management.

9. Strategic thinking and understanding your client's needs:
Continuously thinking ahead, while understanding your client's needs will help you develop as a project manager. Taking the time each week/month for strategic thinking can allow you to see opportunities for future projects to continue working with your client while keeping mindful of your client's business alongside market trends. Be patient, as this takes time and will eventually develop with experience. The beauty of the hybrid PM-AM role I'm in is doing things like this!

10. Time management skills:
To do all of the above, you need to know how to spend your time in a value-adding way, be flexible and able to constantly reprioritise your to-do list. Breaking down a large task into small bite-sized tasks can help chip away at a task each day, rather than waiting for a large chunk of time (which is very rare as you need to attend meetings and complete other tasks). You also need to be able to help manage other people's time and be confident to raise any concerns if people are not managing their time well - always offer solutions.
What do you wish you would have known about your job before starting?
It's been a challenging journey over the last 2+ years, it's taken a lot of self-motivation and self-belief to get to where I am today. Some of these points I already knew at the beginning of these two years, but I wish I had believed them, as it may have saved a few tears along the way!
Trust your intuition

Believe in yourself and have confidence in your abilities

Remain calm and take care of your own well-being; you cannot pour from an empty cup

Most projects do not progress without blockers or bumps in the road, and that's ok. What's important is how you react and the steps you choose to take afterwards to learn from those bumps!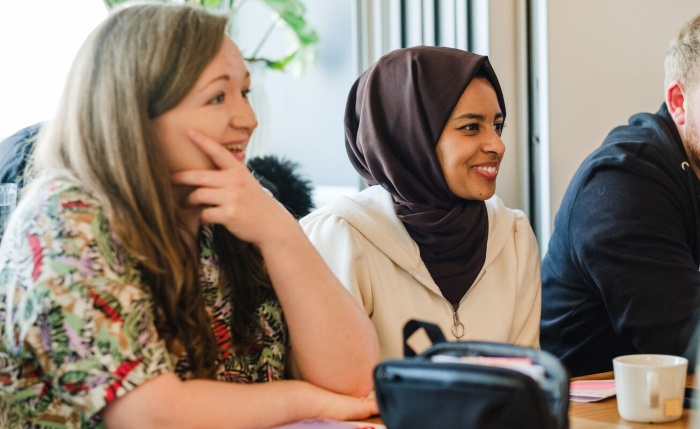 What do you love the most about your job?
I love the hybrid PM-AM role I'm in now! Before I was solely a PM, but now I feel I have the whole picture. this has allowed me to flourish, be more confident and grow into a well-rounded skilful individual.
I love supporting people and creating a calm safe space where we can all bring our full selves to work, working together towards the same goal. I thoroughly enjoy being part of the journey from ideation all the way to delivery and documentation. I gain a great sense of satisfaction when we go above and beyond the client's expectations.
Lastly, being part of something meaningful that impacts people's lives, whether that be, helping them gain the information they need more efficiently to support their patients, or patients being empowered to own their well-being support and gain access to the services they need.
Conclusion
Well done if you got to the end of this blog! I didn't intend to write a dissertation! I hope you have enjoyed reading it and feel inspired to explore the world of Project Management!