Enabling digital innovation in pharma through design sprints
Design Sprints UX and UI Design Rapid Prototyping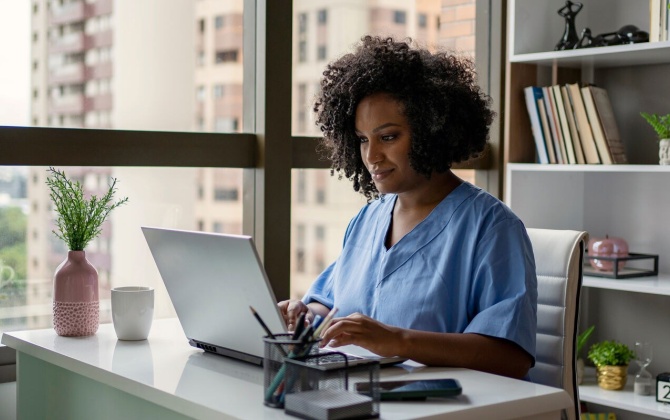 We have been partnered with one of the top 5 global pharmaceutical companies for over 10 years, working with them both at a country level in several high priority markets, and on global projects. Our team provides strategic consultancy, UX and UI design a key digital initiative — a multi-channel digital product that allows healthcare professionals (HCPs) around the world to engage with our client.
Our client wanted to increase the ease and speed at which busy healthcare professionals could access the information they needed for patients, and help them to feel increased control over the process of registration and searching for content. They approached us to discover service-based features that would aim to improve the customer experience and provide enhanced value to HCPs.
A vital element of this project has been involving key stakeholders across several departments and business functions. Throughout the process, we have asked stakeholders to adopt new ways of working including design thinking methodology and a lean, iterative approach. In doing so, we managed to bring speed and innovation, while still navigating important regulatory requirements.
Working closely with our client, we're proud to have delivered the next generation of the platform, creating an enhanced digital customer experience for HCPs and enabling faster, more intuitive access to important information and content.

Outcomes
A new generation portal was launched for a global network of HCPs.

Cross-functional teams were united around a clear goal and customer-centric vision.

A lean and iterative approach, centred around design thinking, enabled rapid progress.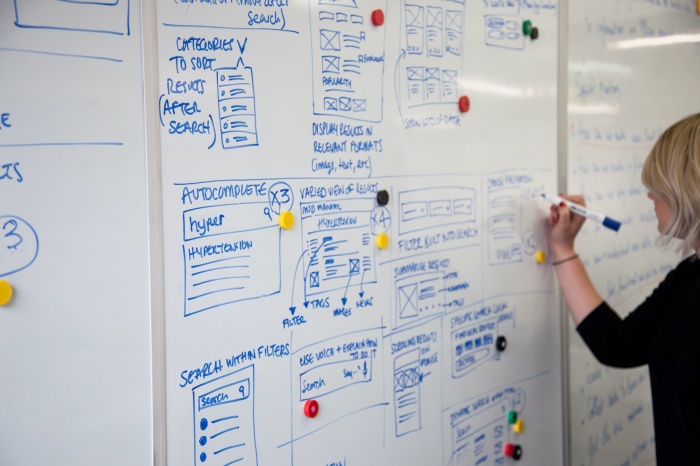 Introducing cross-functional teams to new ways of working to create the digital hub for HCPs
The hub is a key tool used by HCPs around the world as they prescribe our client's products, and by Product Brand Managers that upload resources to the hub. Our global client offers hundreds of products to millions of HCPs, and this tool allows them to access safety and dosage information when prescribing medication easily. This tool is used across our client's entire global footprint.
Our design team took an innovative and iterative approach to engage the business and encourage support for the next generation portal. We helped stakeholders to adopt a new way of working by using design sprints and design thinking methodology.
We have worked with this client to explore and validate concepts from around the business, bringing cross-functional teams together at our Brighton studio, remotely and at client locations to ideate, innovate and create testable prototypes that could be validated with users. In many cases, we tested a potential solution with users in just one week.
The approach has allowed us to bring diverse groups together and work closely with legal and regulatory colleagues to enable them to be involved from the beginning of the process, rather than approving a finished product. Together we've been able to manage the balance between innovation and regulation.

Knowledgeable, skilled, professional and personable team with a great approach to mining insight and converting into tangible business action. A strategic partner, not just a vendor.
Global Product Lead, Digital


Top 5 Global Pharmaceutical Organisation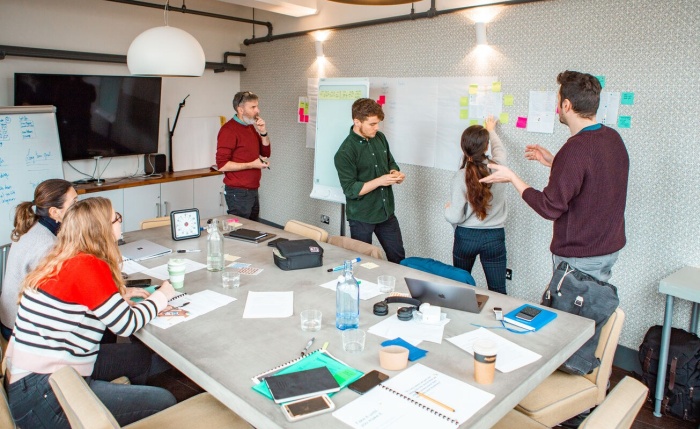 Aligning on goals and generating ideas in Design Sprints
Innovation can be a challenge for large organisations when there are multiple teams and stakeholders to unite as well as complex industry regulations. Turning ideas into delightful customer experiences in this landscape can be a real challenge. Design sprints offer a good process to combat these challenges and can create a healthy path to success when launching new experiences and products. At Graphite, we tailor the design sprint process to each client and project, making sure there is always a clear plan and path for each phase.
Together the teams spend the first day understanding the problem, revisiting user research and interviewing stakeholders. This is an opportunity for members of a sprint team that may come from different departments to unpack all they know about the problem, their understanding of the customer and to share knowledge. Together the team will define the sprint goals and vision. Then, the teams work to ideate and sketch solutions to the problem, before deciding which routes to storyboard, prototype and test with users. 

A mobile-first approach ensures convenience and flexibility for HCPs
All of our work on the HCP hub is mobile-first, from research through UX design and the eventual design system. In addition to this, our work is implemented throughout the client HCP digital estate, including in dedicated mobile apps where we have focused our efforts on improving registration and search. 
With a user-centric mindset, we designed a modular global registration service. Through iterations and user testing across multiple markets, we were able to fine-tune registration and increase conversion on a global scale.
Setting KPIs to enable measurable success
We report across a suite of metrics, with a focus on specific KPIs that drive value for non-transactional sites and provide insight into the relationship between our client and HCPs. These quality-focused metrics allow us to measure the impact of the site in each market, providing insight into the highest performing templates and components for each scenario, and making data-driven recommendations for future improvements.

Graphite is a key partner for us. Their user focus, product insight, design thinking and creative capability complement our strategy perfectly.
Senior Director, Multichannel Marketing


Top 5 Global Pharmaceutical Organisation
The benefits of working in design sprints
By utilising a design-led approach, we were able to unite a cross-functional team from the beginning of the process, so everyone was working towards a clear goal and able to understand and contribute to the solution, which increased team morale. Through the design sprint process, we were able to reduce the approval time between different teams and get very early feedback from customers. This enabled us to iterate prototypes to deliver better outcomes for end-users while saving our client both time and resource.
The Senior Product Manager at the client shared his reflections with us afterward:
"As we wrapped up the final day by plotting our ideas on a continuum of value and effort, it was clear that the team aligned on a core set of features that collectively represented our best ideas. For me, this demonstrated the value of the exercise."

So, what's next? 
We are continuing to work with our client's product team to evolve the platform by collecting valuable feedback from HCPs to create further engagement. 

Want to talk to us about your digital product needs?